It is a brand that is not well known. But the watches from V.O.S.T. We have had Germany in our range for a while. Truly such a brand that we would like to introduce you to. The watches are especially interesting for fans of large timepieces. For a V.O.S.T. you can have a strong pulse, but you don't have to. A striking brand with watches of a striking quality! Good to know: we ship all our watches all over the world, fast & secure!


V.O.S.T. Germany: a solid appearance
The V.O.S.T. watches are certainly not the smallest timepieces. You might not immediately say that when you read that the case diameter is "only" 44 mm. That may not be "XXL", but these watches have a quite robust and sturdy appearance. This is mainly due to the wide connection between watch strap and case. It measures 30 mm with all VOST watches, which is quite substantial.
Titanium watches
From the V.O.S.T. watches we also have a number of titanium variants. And they are a lot lighter than the steel versions. Quite strange to have such a big guy in your hands and to conclude that it weighs almost nothing because titanium is so light. Looking for a titanium watch? Find all titanium watches here >

Why you should or shouldn't be a V.O.S.T. watch must buy
Why you should or shouldn't buy VOST is mainly a matter of taste. We still advise you with a few advantages and disadvantages. Starting with the disadvantages, we were right.
What you might experience as a disadvantage is the shape of the bezel on the V.O.S.T. timepieces. If you don't like that hexagonal bezel, it is better to look at another watch brand. That hexagon is pretty much the most important feature of these watches.

V.O.S.T .: How big a watch can you handle?
What could be a disadvantage for you is the fact that these watches are quite large. Due to the wide watch strap connection and the sturdy case with bezel, these watches look much more robust than they actually are and you would expect when reading the specs.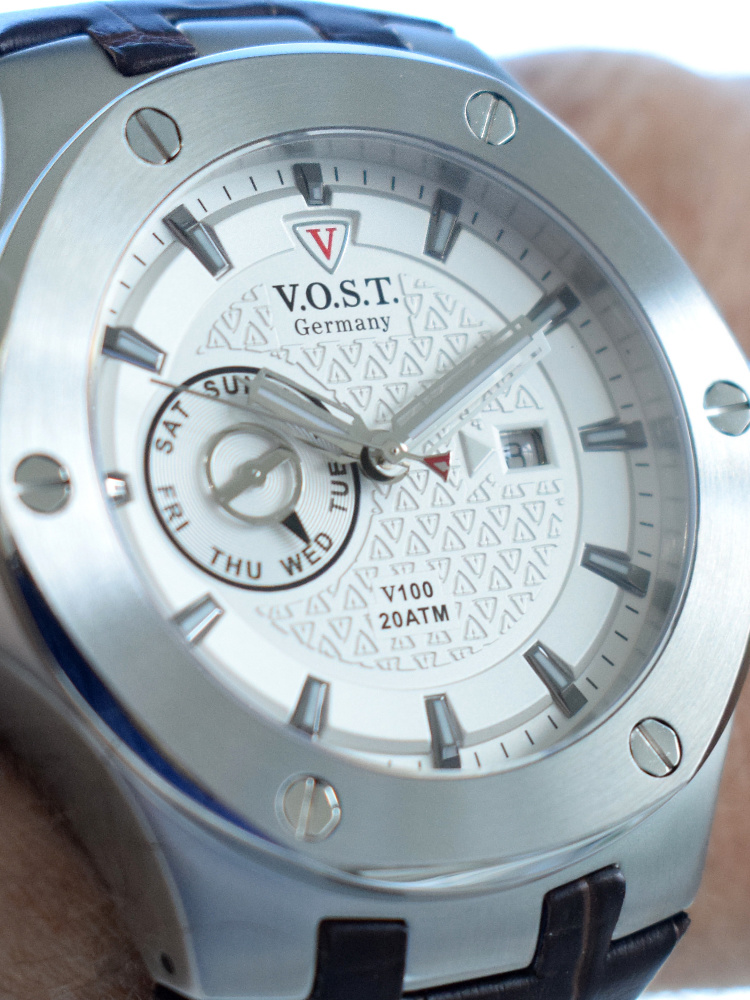 Excellent timepieces
Fortunately, there is enough positive news to report about these watches. Best story we can tell you is that they are equipped with excellent timepieces. The quartz versions even with a Swiss ISA movement. The machines have a not inferior Citizen Miyota 8205 movement under the hood.
"Every disadvantage has its advantage!"
Oh and yes: they are hefty. That is a disadvantage for one person, an advantage for the other! In any case, they are nice and big and certainly stand out.
Another advantage: these watches are well finished. These timepieces are very detailed and beautifully put together. Not only the dial and the case, by the way: attention has also been paid to the watch straps. And the link bands are very nice. It is precisely that wide format that makes V.O.S.T. different from most watches.
Unknown does not mean unloved!
V.O.S.T. is therefore relatively unknown. With a V.O.S.T. watch quite something exclusive and unique. Great quality for a good price. A nice time machine from a German watch brand.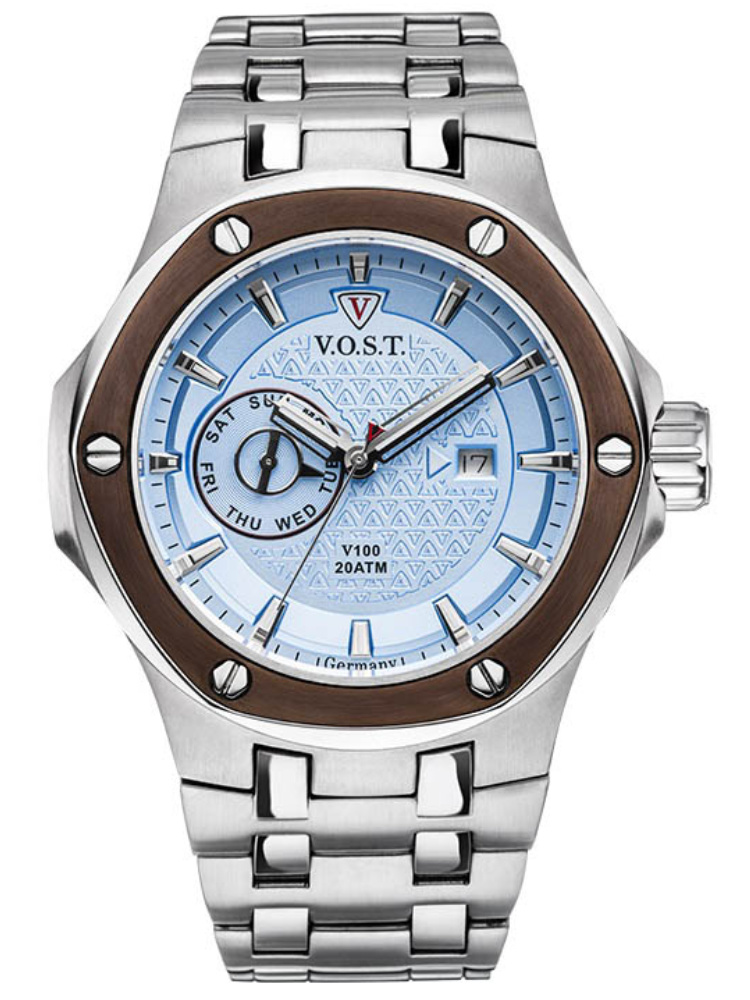 Skin irritations from steel? go for titanium!
Do you get skin irritation from steel watches? Then choose a watch made of titanium. V.O.S.T. has a number of titanium models in its range. Really nice timepieces that do not weigh much and wear smoothly on your wrist without irritating the skin.
Prices of the V.O.S.T. watches
The prices of the V.O.S.T. Germany watches range from € 159 to € 299. The titanium variants are of course the most expensive. Also you'll find lots of choice between quartz and automatic watches.
A VOST is a great choice for lovers of beautiful, sturdy watches.
Judge for yourself whether V.O.S.T. Germany is something for you, view the range here>
An overview of all watches for men? View them here>