We all know fashion brand Guess from, among other things, the designer clothing, but also from the watches. What you may know is that Guess also has a sub-brand with watches: the Gc Watches where Gc stands for Guess Collection. Gc Watches are chic, very well finished and they all have Swiss movements. This does have a slightly higher price tag, but if you want to enjoy a beautiful watch for years to come, a Gc Watch is an excellent choice. There are quite a few Gc models, but these are the 5 most beautiful men's watches from Gc: 





5. Gc PrimeTime Y91005G7MF Men's Watch
One ​​of the newer models is the Gc PrimeTime Y91005G7MF. A tough and stylish men's watch with a case diameter of 44 mm. This watch can be combined well with any clothing style. The dial is deep blue and therefore the rose gold-colored elements such as the indexes and chronograph movements stand out nicely.
The hands have a luminous Super-LumiNova coating, which makes this Gc easy to read in the dark.
Reliable Swiss movement
The Gc Y91005G7MF is equipped with a chronograph and a tachymeter. As with all Gc Watches, this watch also has a reliable Swiss movement under the lid. And if you step into the swimming pool with it, that's no problem at all, this clock is waterproof up to 100 meters.

4. Gc Coussin Shape Racing Y99006G2MF Limited Edition Men's Watch
Sometimes we do have a Limited Edition from Gc Watches in our range. The Y99006G2MF is one of those.
A striking Limited Edition watch made for the 2021 Kessel Motorsport team. Only 500 copies of this unique watch are in circulation, it is very cool that we still have this model in stock. 'Still', because as soon as it is sold out we will remove it from our shop.
Gc and the Kessel Racing Team
Gc Guess is a sponsor of the Kessel Racing Team and has equipped the team with, among other things, clothing and luxury watches. This Gc timepiece is inspired by racing car dashboards, with the protruding, unruly square case, elegantly framed with a screw design. Daring, unique, striking: An exclusive Limited Edition watch! A chronograph is also included in this model and even a tachymeter is on board. A sporty clock with a Swiss movement.




3. Gc Elite Z06002G1MF Men's Watch
Among the Gc Watches, this Gc Elite is one with a somewhat more chic look. Almost elitist perhaps, elegant in shape with classic elements such as the large Roman numerals on the dial. The case of this Gc model has a diameter of 'only' 37 mm, but we should immediately mention that this is from case to crown. Because this is a real tonneau with a rectangular shape that makes it look larger than its width suggests.
Luminous Super-LumiNova Coating
Also inside this watch is a Swiss movement that powers the rose gold-tone hands and chronograph. The well-filled white dial with large indexes is beautiful. Both the hands and indices are provided with a perfectly luminous Super-LumiNova coating, reading this watch in the dark is no problem at all. This Gc Watch is waterproof up to 50 meters: you can take a shower with it, but it is better not to swim with this Gc watch.
The brown leather strap is finished with stitching and closes with a buckle.





2. Gc Guess Collection Y44006G2MF Insider men's watch
If a gold-colored watch appeals to you, then you must like this Gc Insider. Thanks to the black dial, this Insider may also appeal to people who are not likely to wear a gold-colored watch. The black dial makes this model just a bit tougher and gives the watch a timeless look. The watch has something modern, something chic and, with the Roman numerals on the dial, also something classic.
Striking gold shiny watch
This model also has a Swiss movement that, in addition to the 3 hands, also powers the chronograph. You have to keep in mind that this watch is all gold shine. You have to love that, it stands out in any case. The case diameter of 44 mm is fairly average, not too large in any case. This Gc Watch is a beautiful jewel for the real Gc enthusiast. Waterproof to 100 meters, luminous hands… A clock with a golden edge!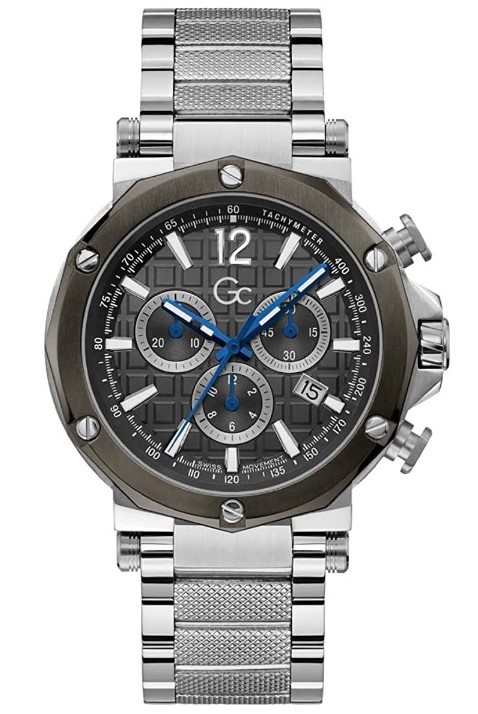 1. GC Y53006G5 GC Spirit
Don't like gold or yellow Gc watches at all? Then the Gc Y53006G5 might be something for you. Because our number one is one of the most popular Gc watches we have and one with an excellent price / quality ratio. The Gc Y53006G5 Gc Spirit is definitely our favorite but appeals to many people.
What we like most about this watch are the striking blue hands and the sturdy lunette that seems to be screwed on. This Gc watch is modern to look at, with a multilayer dial on which a chronograph is also placed. An excellent Swiss movement drives the hands and the date can of course also be read.
Waterproof to 100 meters
This Gc model also measures 44 mm and just like the other Gc watches in this top 5, this watch also has luminous hands and indexes. The water resistance of up to 100 meters makes this men's watch suitable for swimming and the sturdy link strap of this Gc can be shortened. The Y53006G5 (despite keeping good time) is quite timeless! A sublime wristwatch at an excellent price.
Can't find your favorite Gc here? View our range Gc Watches.
Would you prefer another watch brand? Find here all watches from WatchXL.