Women's watches are available in abundance, both online and in physical shops, in various styles, sizes and price ranges. But what if you are looking for a women's watch of exceptional quality with an eye-catching look? If you really want to impress, these five women's watches are definitely worth considering when buying a new one. These watches stand out for their unique design and high-quality finish. They are models from renowned brands that not only complement your outfit, but also make a statement!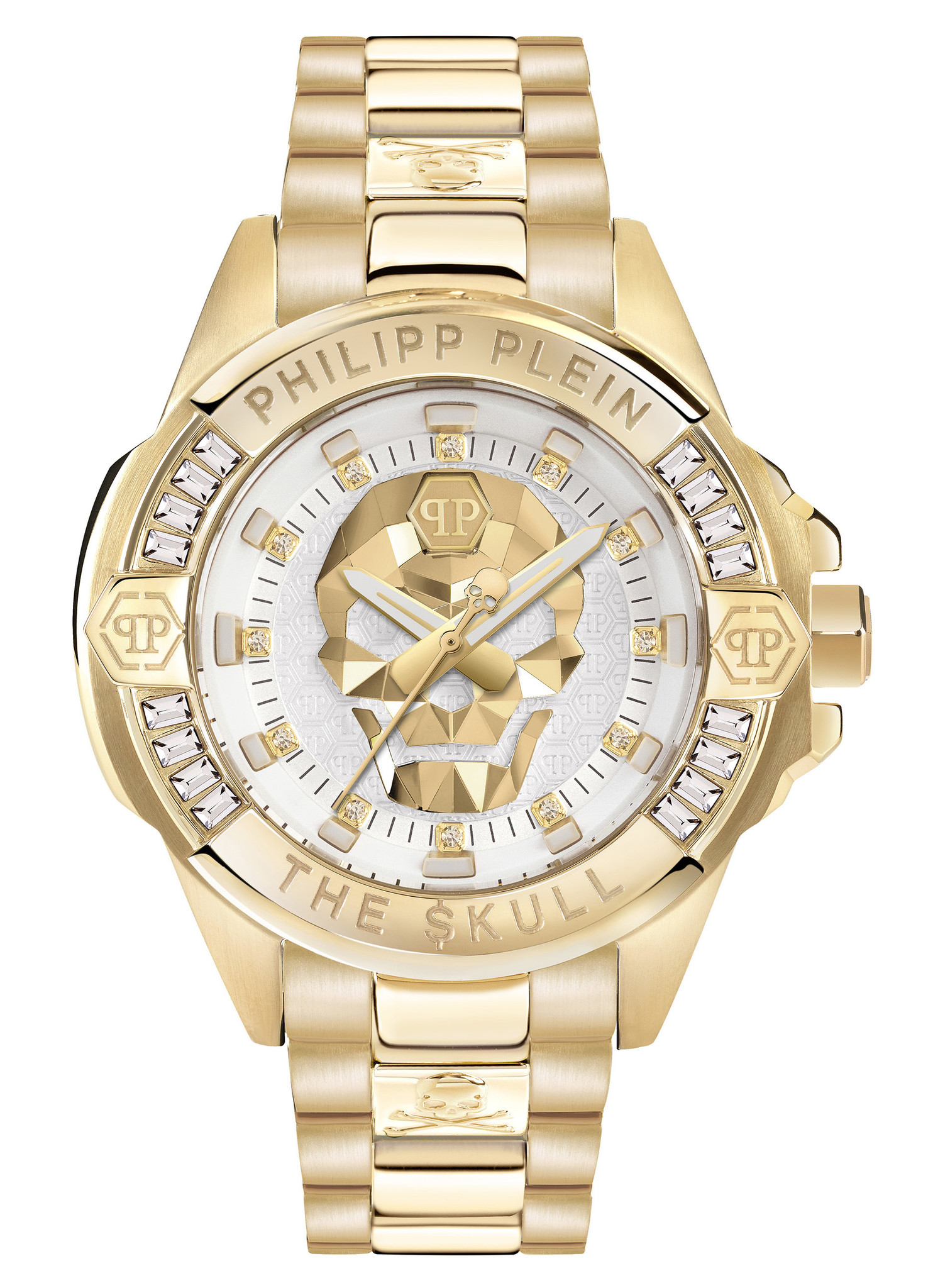 Striking dial | Quartz | 41 mm case diameter | Water resistant to 5ATM

5. Philipp Plein PWNAA0722 ladies' watch
This Philipp Plein women's watch exudes the extravagant and unique style that the Philipp Plein brand is known for. Especially if you also wear clothes by the popular designer Philipp Plein, this Philipp Plein ladies' watch is an excellent addition to your outfit.
The Philipp Plein PWNAA0722 is a true eye-catcher, with bold accents and a dazzling aesthetic. The combination of high-quality materials, striking crystals, ensure durability and a luxurious look. The detailed dial reflects the brand's attention to craftsmanship and philosophy of pushing boundaries. However, the distinct style with that striking skull on the dial will probably not suit everyone's taste. You just have to dare! And this watch is pretty hefty: 41 mm. A spectacular women's watch from a brand worn by the likes of Lindsay Lohan, Grace Jones and Rita Ora.
Pros: Striking design, luxurious materials, detailed dial.
Cons: Bold style may not be for everyone. Reasonably hefty in size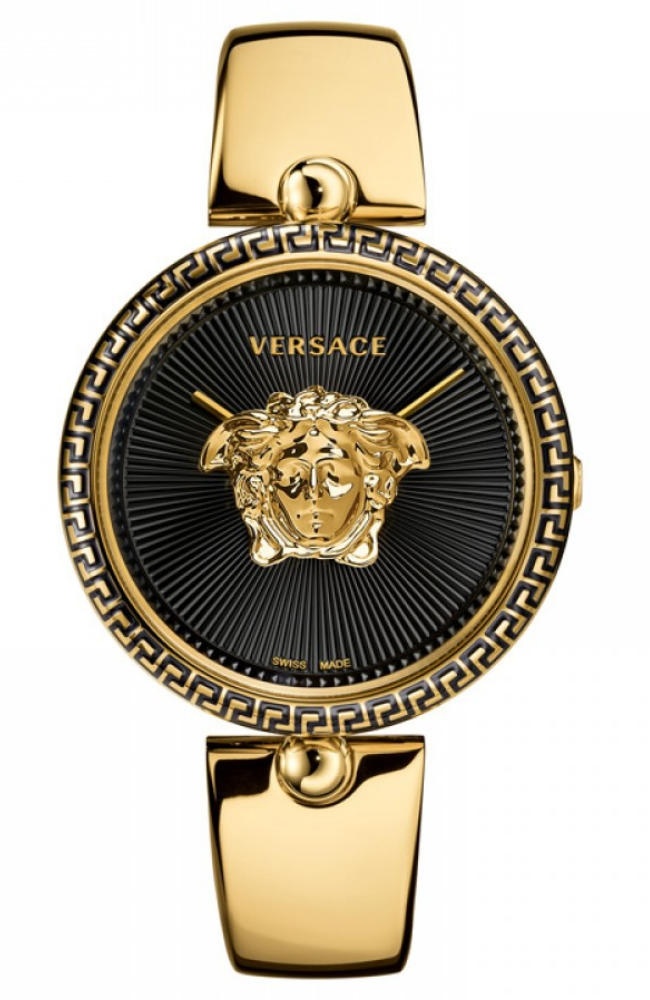 Sophisticated finish | Quartz | 38 mm case diameter | Water resistant to 5ATM
4. Versace VCO100017 ladies watch
Versace has a huge fan base. Men and women alike. The VCO100017 Palazzo by Versace is a symbol of timeless elegance and luxurious sophistication. With curves and shine, we find this Versace women's watch utterly feminine.
The watch exudes the classic style the brand is known for, with gold and black tones making it a special combination of chic and tough.
The dial is special, though, because this watch does not have hour indexes.
The iconic Versace logo on the dial testifies to the brand identity and quality and is of course eye-catching because you are allowed to show that you are wearing a Versace. Of course, Versace comes with a proof of authenticity so you can be sure you have a genuine Versace.
The sophisticated colour scheme and fine details on the bracelet add to the design. And if the watch strap doesn't fit, no problem! You can take out 1 or more links in between so it fits perfectly on your wrist.
Pros: Iconic brand look, gold and black tones, sophisticated bracelet.
Con's: Dial without hour indexes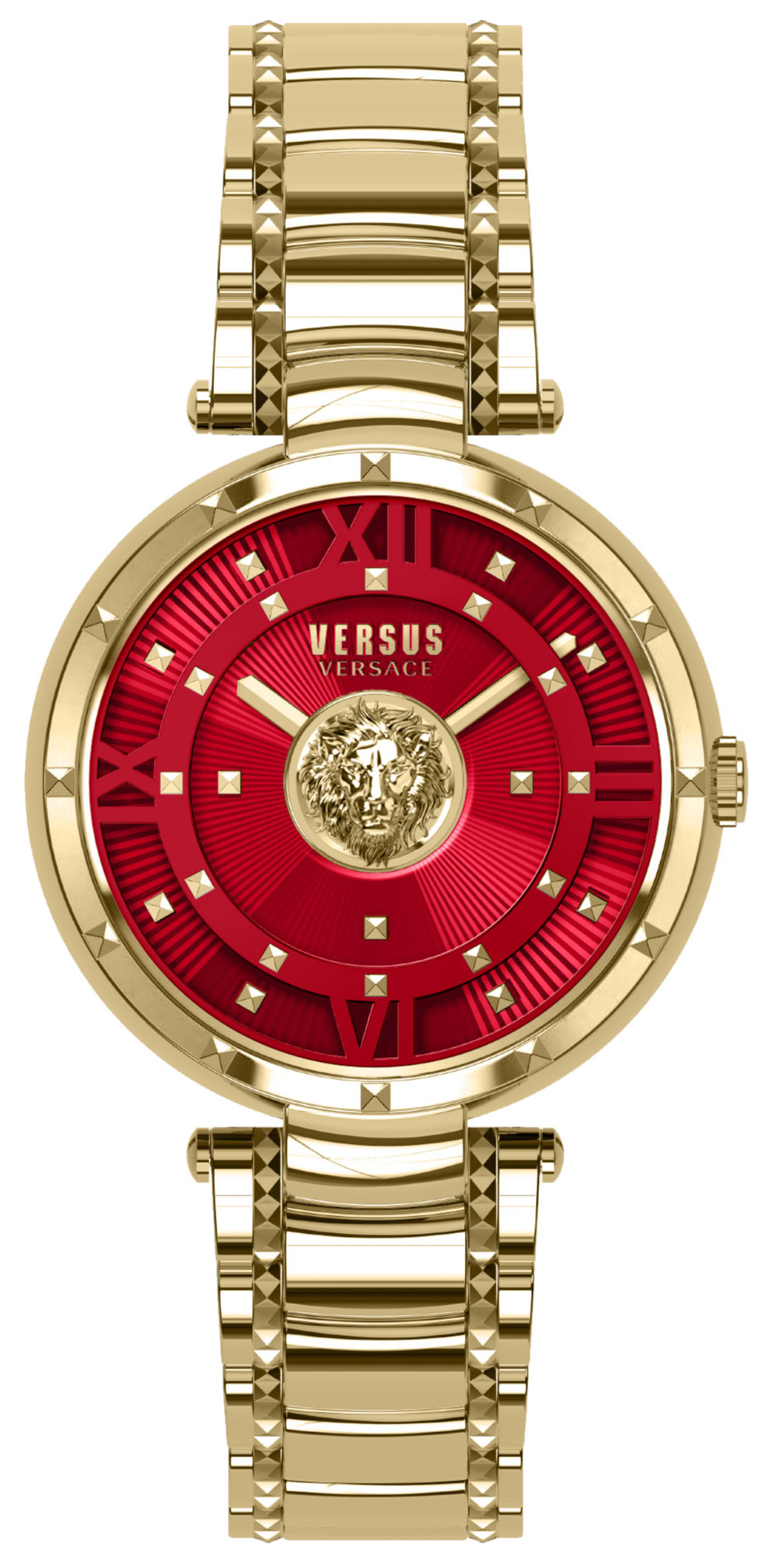 Detailed dial | Quartz | 38 mm case diameter | Water resistant to 3ATM
3. Versus Versace VSPHH3921 women's watch
If a Versace is just a bit too much for you in terms of price, or if you're looking for a trendier ladies' watch anyway, Versus Versace is a great alternative. And this Versus Versace VSPHH3921 ladies' watch embraces a contemporary aesthetic with a playful twist. The combination of colours and textures gives the watch a modern look and makes this ladies' watch quite eye-catching. The Versus Versace logo on the dial adds a subtle brand identity. The watch is meant for those looking for a less conventional style. We really like the colour of this watch but the red dial might not appeal to everyone.
This women's watch from Versus is indeed striking in colour but its attractive price also appeals to many ladies.
Pros: Modern to look at, detailed elements, eye-catching shimmering jewellery.
Con's: Red colour won't appeal to everyone.
Tonneau design | Quartz | 33 mm case diameter | Water resistant to 5ATM
2. Gc Y90002L7MF women's watch
The Gc (Guess Collection) brand may not be as popular as Versace, it is certainly no less luxurious or designer. Surely, this Gc Y90002L7MF ladies' watch is a very different 'cup of tea' compared to the ladies' watches described above. In any case, this timepiece has a lot less bling bling and a rectangular tonneau watch case. The blue dial is surrounded by Swarovski crystals and the watch strap is a smooth combination of leather on silicone.

His made from you can enjoy sophisticated functionality and. The watch combines a chic design with practical functions, including a chronograph and date display. The combination of high-quality materials, such as stainless steel and sapphire crystal, ensures durability and an elegant look. However, the watch is priced in a higher category, which may be a consideration.
Pros: Sophisticated luxury, very lightweight, comfortable fit.
Con's: Tonneau shape of the case will not appeal to everyone.
With Preciosa Crystals | Quartz | 28 mm case diameter | Water resistant to 5ATM
1. Philipp Plein PWWBA0123 The Hexagon Groumette watch
This Philipp Plein women's watch is one of our very latest acquisitions (2023-2024 collection). And we think this watch is one of the most beautiful women's models we have. With this model, it is mainly the shape that attracts attention. The hexagonal case is very special to see. Also, with its case diameter of no more than 28 mm and a thickness of just 9 mm, this ladies' watch is very subtle in size and very easy to wear under any outfit.
The combination of the silver tones with the beautiful inlaid Preciosa Crystals makes this model utterly feminine. This Philipp Plein has bling bling and is perfect for lovers of chic jewellery. An asset for any ladies' wrist!
This Philipp Plein Hexagon ladies watch is equipped with a reliable Citizen Miyota movement that just does what it is supposed to do: show the exact time!
Pros: Very fine in size, finely finished with Preciosa Crystals.
Con's: Hexagonal shape won't appeal to everyone.
You'll find these 5 top women's watches (while stocks last) in the range at WatchXL.co.uk. With us, you'll find a range of styles and designs to suit your personal preferences. These five women's watches offer a glimpse of the variety available, both in terms of design and functionality. Want to see more? Then be sure to check out our women's watch range.