You have undoubtedly seen them: the new TW Steel ACE Diver watches. Five particularly sturdy and striking quartz movements. Yes, dive watches. But you're not into underwater activities? Don't worry, the ACE Diver is a great choice for all TW Steel enthusiasts, better even: all watch enthusiasts. TW Steel ACE Diver watches: Swiss luxury under a Dutch flag!
TW Steel ACE Diver: limited editions
As you have come to expect from TW Steel, the ACE Divers have been released as Limited Editions, produced in limited numbers. To be precise: 1000 pieces of each watch. And yes: you will receive a certificate with an original serial number. In the near future these watches will no longer be available once they're out of stock. So it is some sort of a collectors item!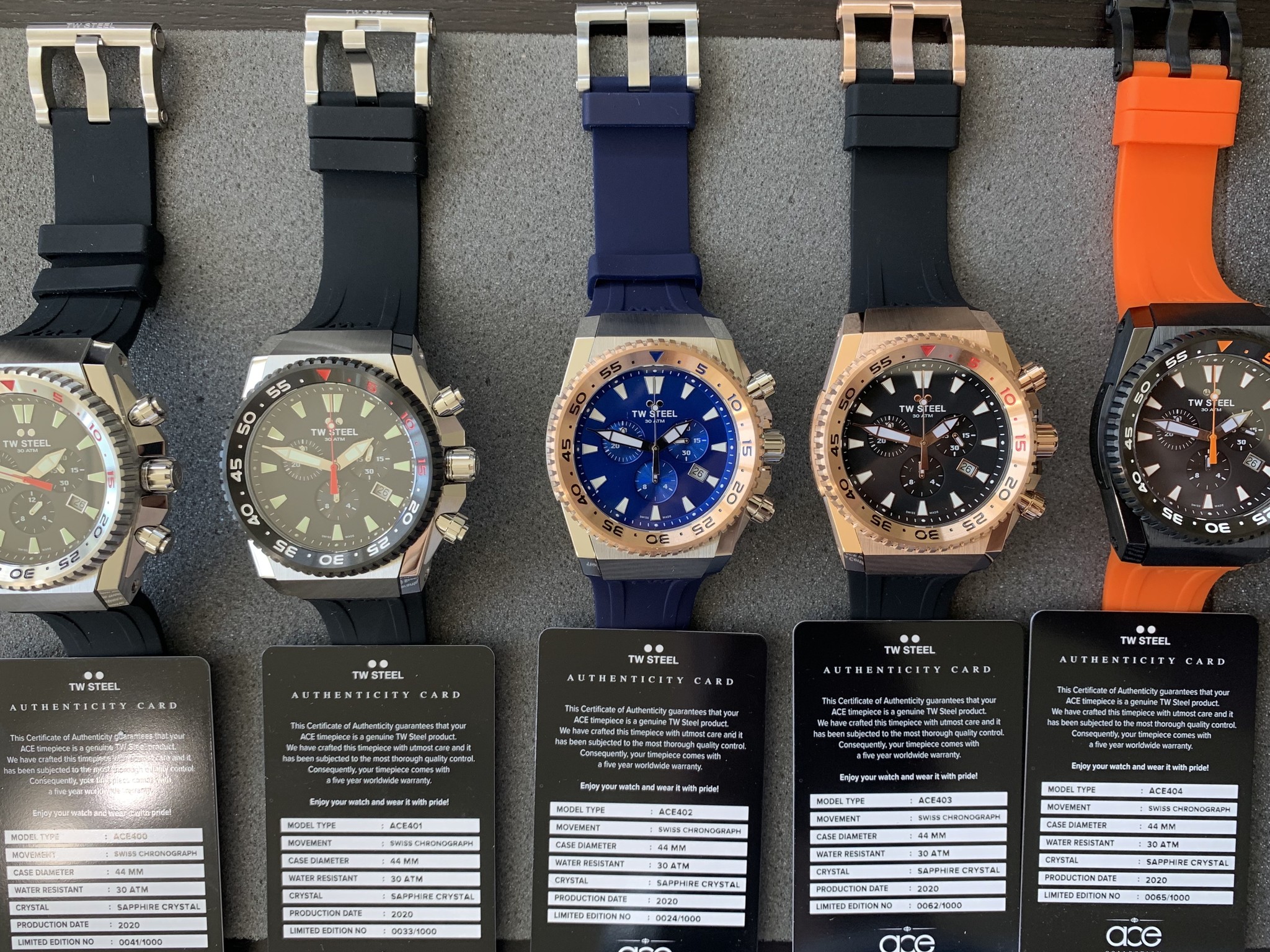 Extremely waterproof TW Steel watches
Crown and pushers of the ACE Diver watches are screwed unto the watch case. Which, if you keep them tightly closed, guarantee watertightness.
Special about all TW Steel ACE watches is the fine example of Swiss technology that powers the chronograph, among other things. You can find this technique in the previously released ACE Genesis watches as well as in this new ACE Divers.
Affordable watches?
Actually, these TW Steel dive watches, if you compare them with similar models from other watch brands, are still quite affordable. Well, affordable, ofcourse: the starting price of € 849 is an amount of money but it is well worth it. Absolutely not bad for this kind of quality.
Beautiful diving watches
Whether you think it is a lot of money or not, if you have decided to purchase it, you will get a diving watch that is not only very good for what it was made for, it is also very beautiful. TW Steel again succeded in creating its very own design.
Pay special attention to the diving ring on the watches, these are also very beautiful. And how bout the color schemes? Nice, what'you think?
TW Steel ACE Diver available from stock
The ACE Diver timepieces are in stock at WatchXL at the time of writing. Fast delivery is guaranteed. 
Take a look at our webshop and admire the beautiful TW Steel Divers. The TW Steel ACE Diver is truly a piece of Swiss luxury.
       All ACE Divers can be found here>

Feel free to judge for yourself and if you have any questions let us know.