Picture this: you are a fashion-conscious watch lover looking for the perfect black watch that is both stylish and functional. We get it: black watches are beautiful and cool at the same time. We have quite a few black watches in our range, which might not make it any easier for you to make a good choice. Therefore, we have made a selection of 10 excellent, tough, black men's watches. This will hopefully help you make a good choice.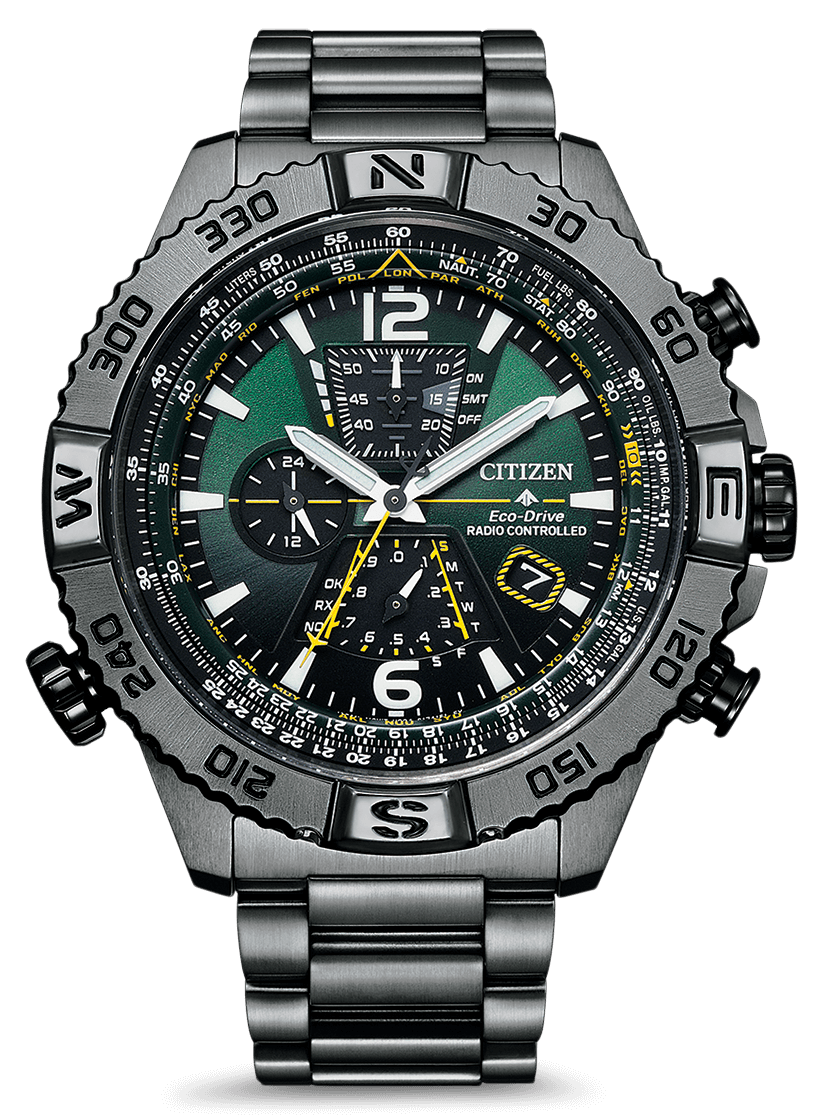 This watch exudes sportiness with its rugged design and stainless steel case. With a case measuring a good 47.5 mm, this really is a hefty watch. Gotta love it, of course, but it is certainly a very nice watch. By the way, this Citizen is not jet black, it also has something anthracite and the green dial with yellow accents gives the watch a dynamic look. This watch is controlled by the atomic clock, so it runs perfectly on time.
Plus point: radio controlled, so always accurate time.
Downside: can be overwhelming for a formal occasion.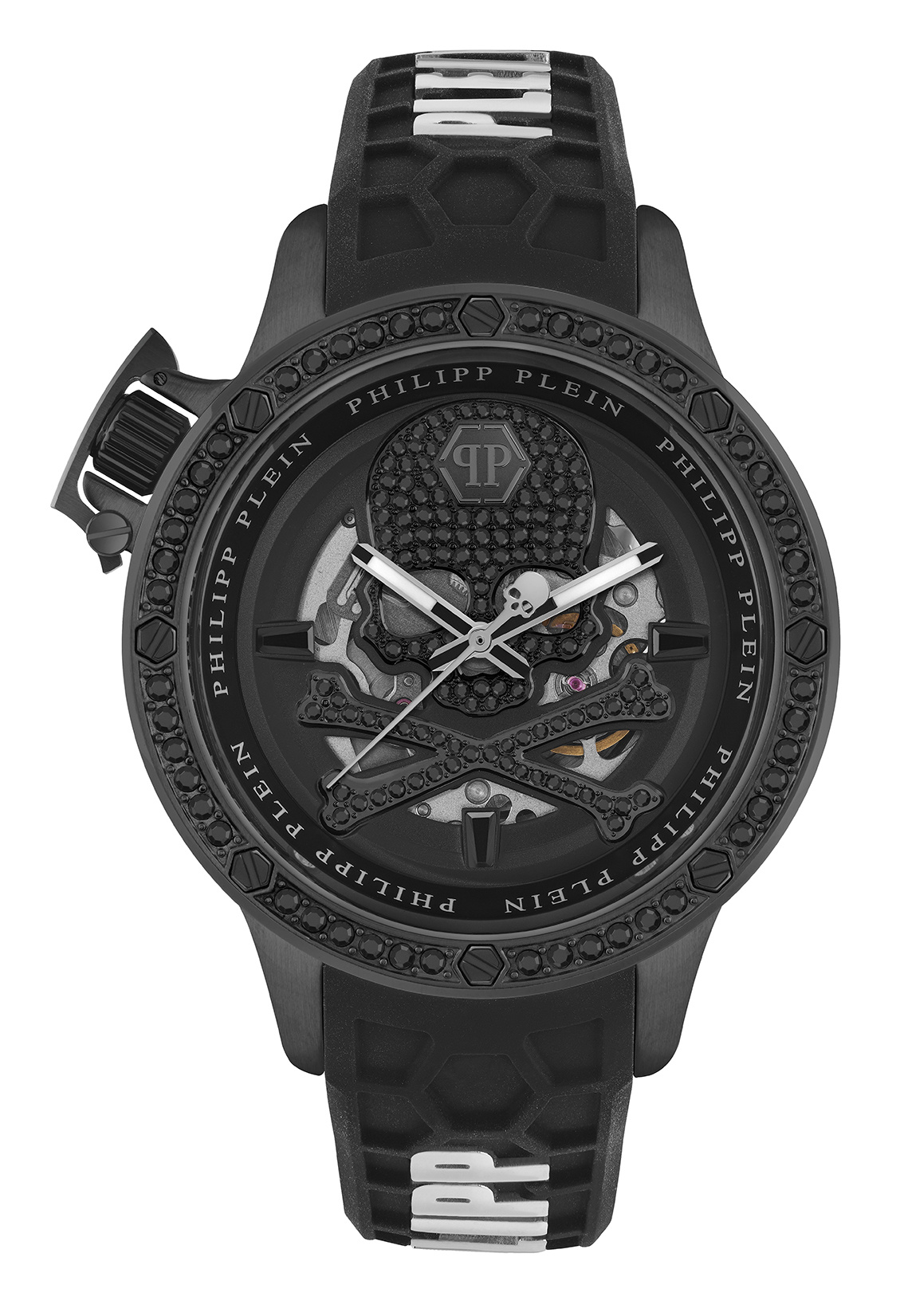 Exuding luxury and glamour with its black silicone strap and striking black kristellan on the bezel and dial, this Philipp Plein watch is one of the German designer's latest models. Whether you are waiting for a big skull on your dial, of course, we don't know, but it shows the guts this brand is showing. Even the seconds hand is not standard. This watch has an automatic movement and if you look closely, you can see through the dial the jewels of the shafts in the movement. At 46 mm, this watch is also a bit heftier than average but then again, it is a timepiece to be shown off!
Plus point: Swarovski crystals on the dial for a touch of elegance.
Downside: can be a little too flashy for a casual look.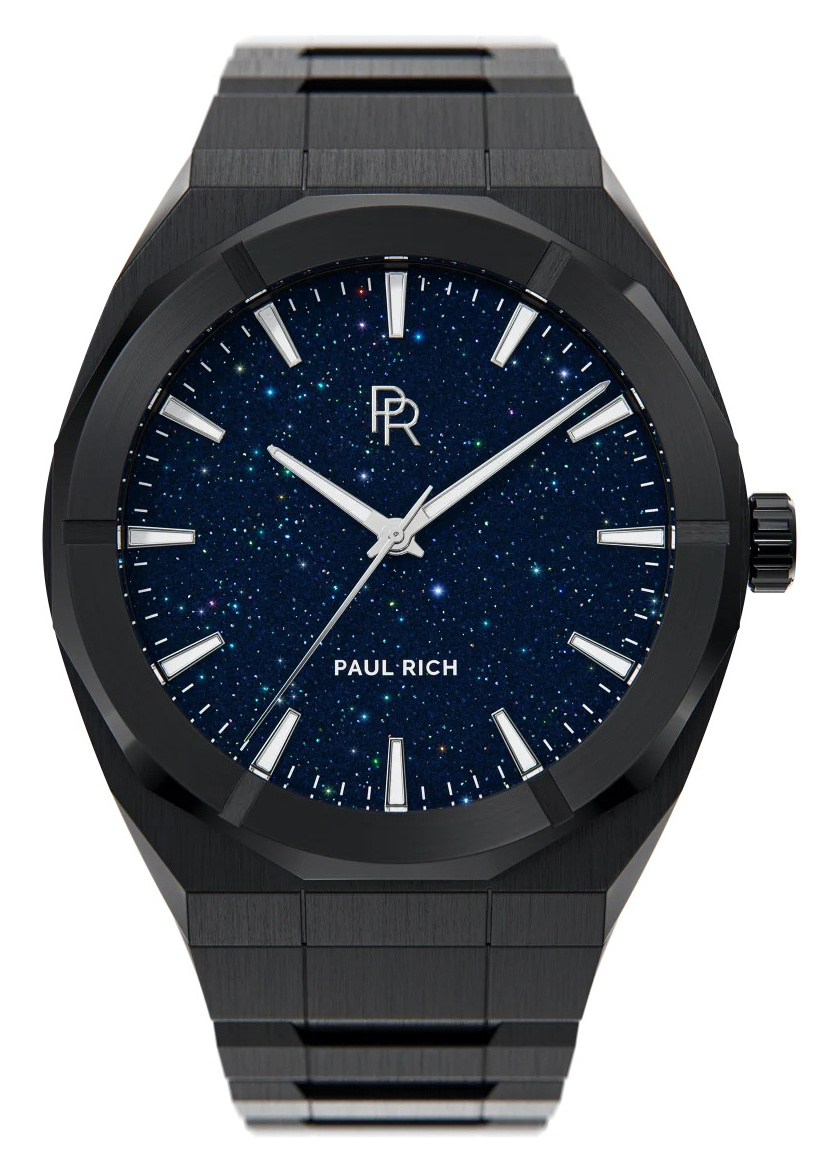 This watch combines classic design with modern touches. The blue dial is nothing like other watches. Paul Rich's idea is to depict the milky-way (not chocolate) on the dial. Whether they succeeded in this is mostly up to you to judge but it does look cool. At least it shines and flashes. The black stainless steel strap and minimalist dial give it a timeless look and, if you compare them to Frosted Star Dust models from the same brand, are even quite subdued to look at. Nice thing is that this watch contains a Swiss movement AND it is waterproof.
Plus point: date display for added functionality.
Downside: the dial will not appeal to everyone.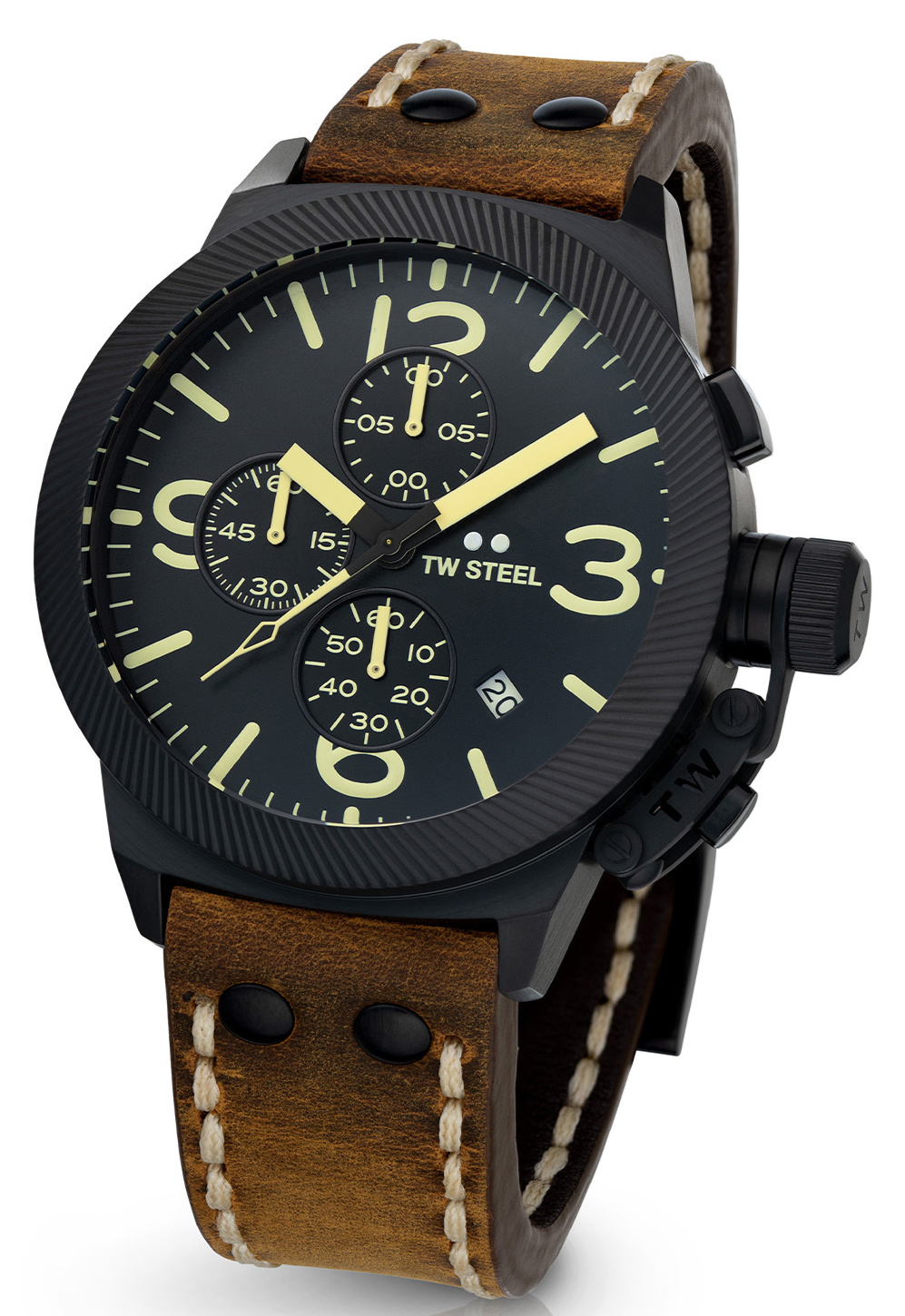 TW Steels come in all shapes and sizes, including black. At least, with black dial and black case. And that looks quite nice because it is a nice matt black version. A tough watch with a robust case and that striking crown cap that TW Steel fans will of course immediately recognise. The contrasting cream hands and indexes ensure good legibility. This watch has a chronograph and that can be quite handy.
Plus point: quite eye-catching
Downside: the crown cap can be a bit awkward when setting the time.



This black diving watch is designed for adventurers. And you can certainly go on adventures with a Citizen, these timepieces can withstand a lot of challenges. For example, this Promaster has a water resistance of up to 200 metres and it has a diving ring. The black steel strap is perfectly water resistant and can be customised. By the way, this watch is an automatic: your wrist movement powers it.
Plus point: superbly illuminated hands and indexes for visibility under water.
Downside: the thick watch case can feel a bit big on narrower wrists.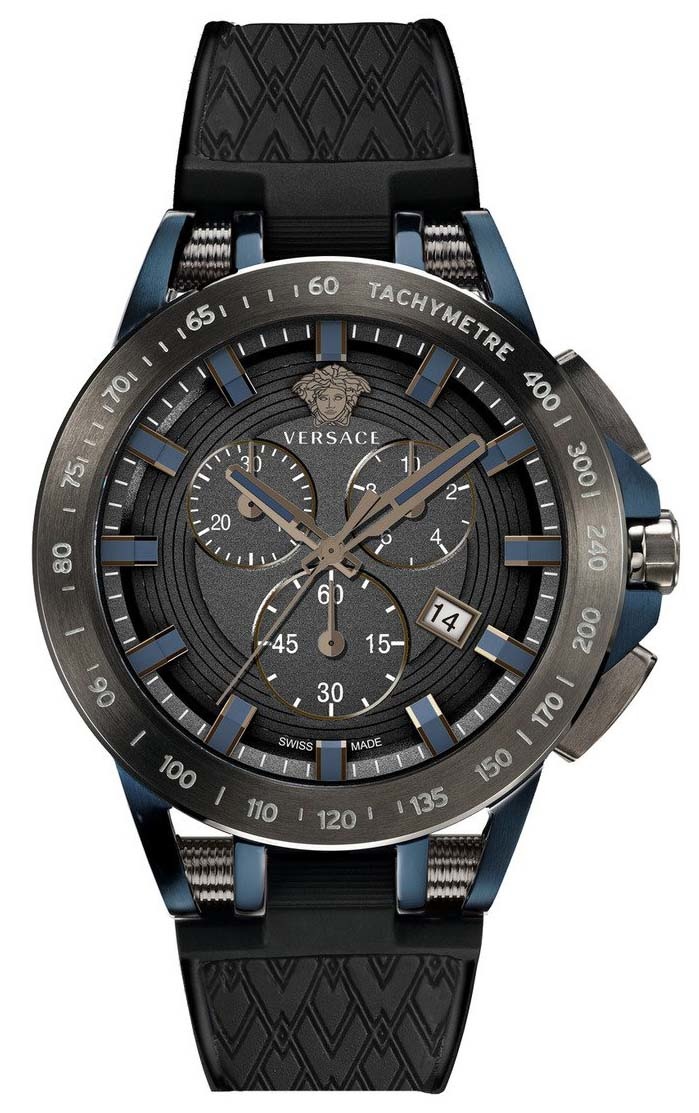 6. Versace VE3E00221 Sport Tech
Who says chic and sporty don't go together? This Versace watch surely proves otherwise. A very nice and eye-catching watch with a black silicone strap attached to a very nice blue case. Also nice is the multi-layer dial on which you can read the time and date, a chronograph is not missing either. This watch also has a tachymeter and it is equipped with a Swiss movement + sapphire crystal! The watch strap can withstand a splash of water and is nice and flexible.
Plus point: This watch has a Swiss movement and sapphire crystal
Downside: This watch is not all black but has a blue case.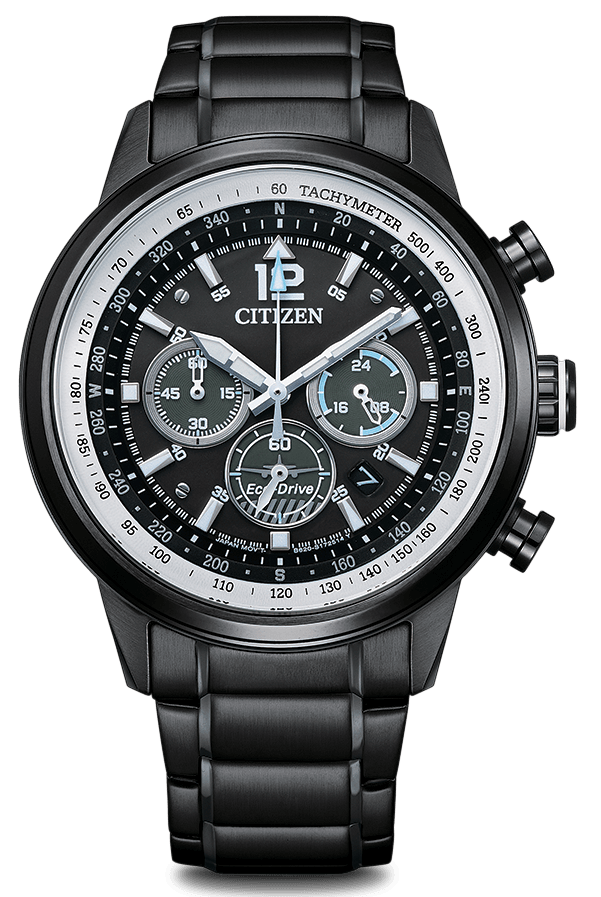 Another Citizen in our top 10. A very different model from the Promaster you'll find at spot 5. The Citizen CA0695-84E chronograph Eco-Drive is a pilot watch with a rugged look and a black stainless steel strap and a well-filled dial. Well-filled because this watch has quite a few functions on board: Eco-Drive, stopwatch, tachymeter, directions of the compass. Good to know is that you can safely go swimming with this watch, it is waterproof up to 100 metres. And what you should also know is that this model is quite kindly priced for a Citizen, as a suggested retail price of €249 buys you this excellent watch.
Plus point: chronograph function for measuring time intervals.
Downside: this watch has a pretty busy dial.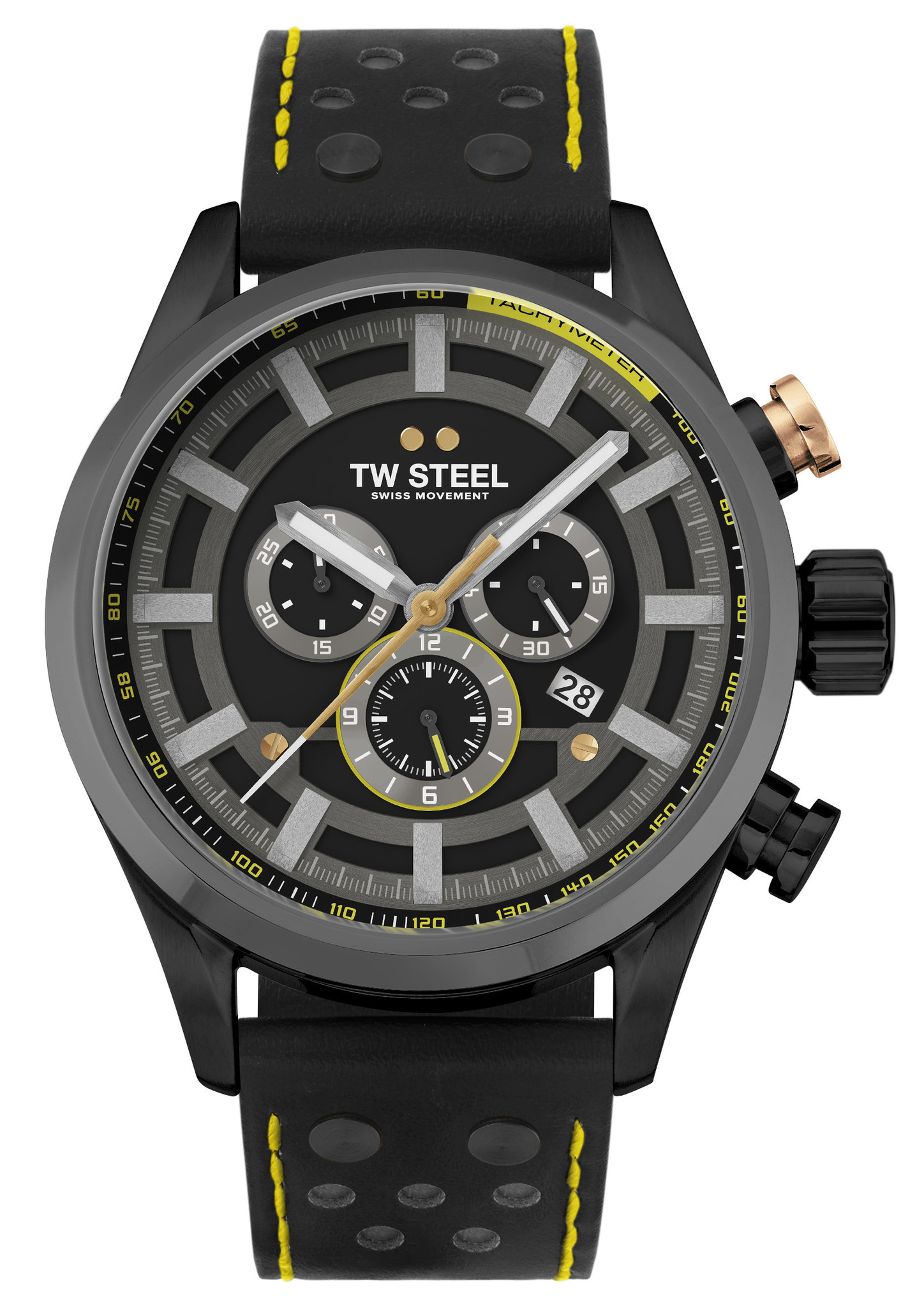 The TW Steel SVS207 is quite an exclusive watch, being a Limited Edition from the Fast Lane collection. TW Steel watches usually have something to do with car/motorsport and this is no different with the chronograph. In addition, the black SVS207 has a Swiss movement and also has anti-reflective sapphire glass. A 1000 pieces of this watch were made and each model has its own unique number. What you do have to take into account is that the case diameter is 48 mm. That's pretty hefty! But quite normal by TW Steel standards. Its unique design and limited edition status make it a sought-after choice, the black and yellow colour scheme certainly contributes to that as well.
Plus point: Swiss movement & anti-reflective sapphire crystal.
Downside: The watch is quite hefty.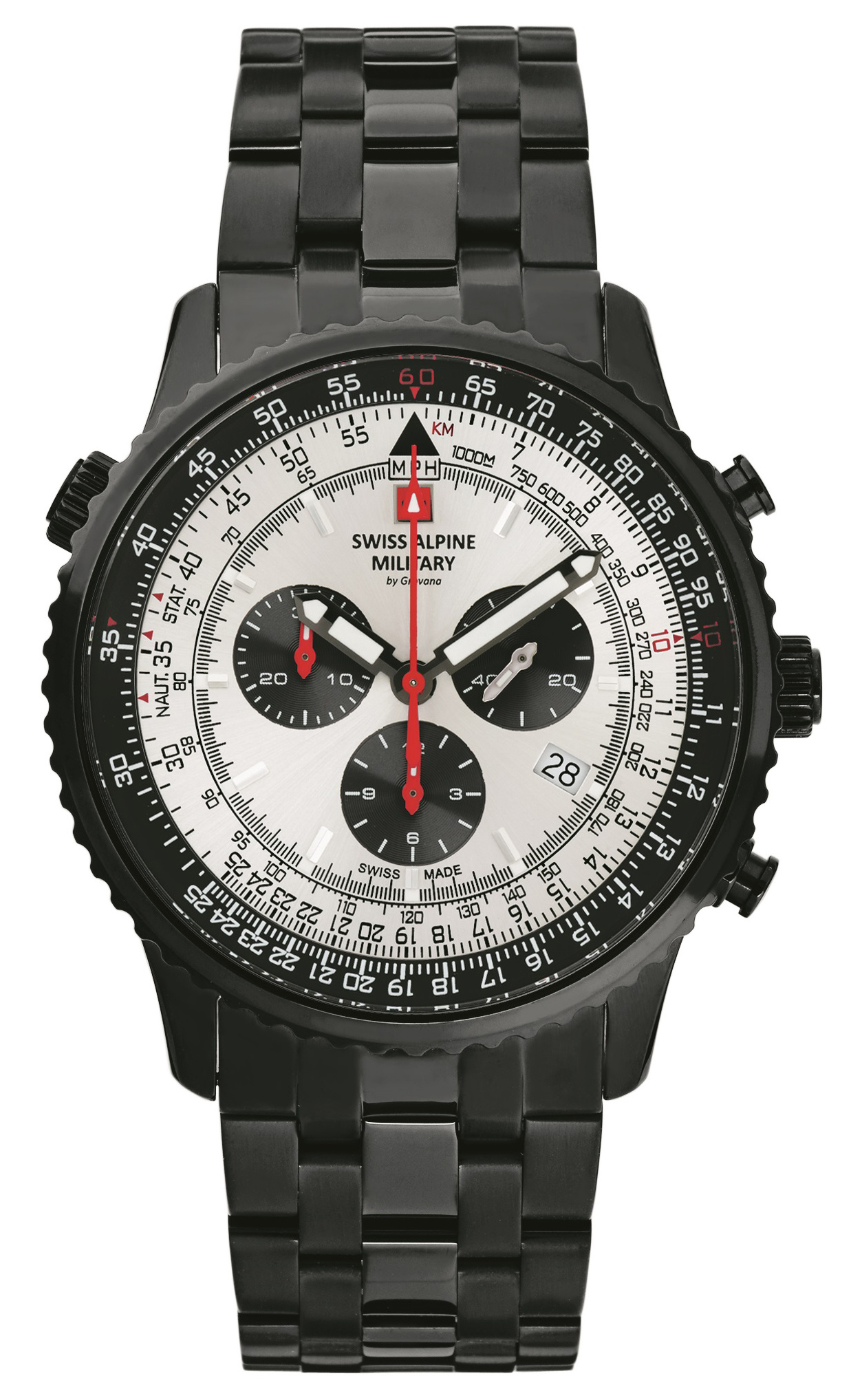 This robust watch has a black stainless steel case and a sporty look. Nice is the contrasting silver-coloured dial on which, in addition to a chronograph, you will also find an extensive slide rule on which you can do various conversions. From litres to gallons, km to miles: it's all possible. This watch and many other brand watches are therefore inspired by the Breitling Navitimer pilot's watches. The chronograph function and tachymeter on the bezel make it ideal for sports activities.
Plus point: comprehensive chronograph with tachymeter.
Downside: the complex dial may take some practice to read.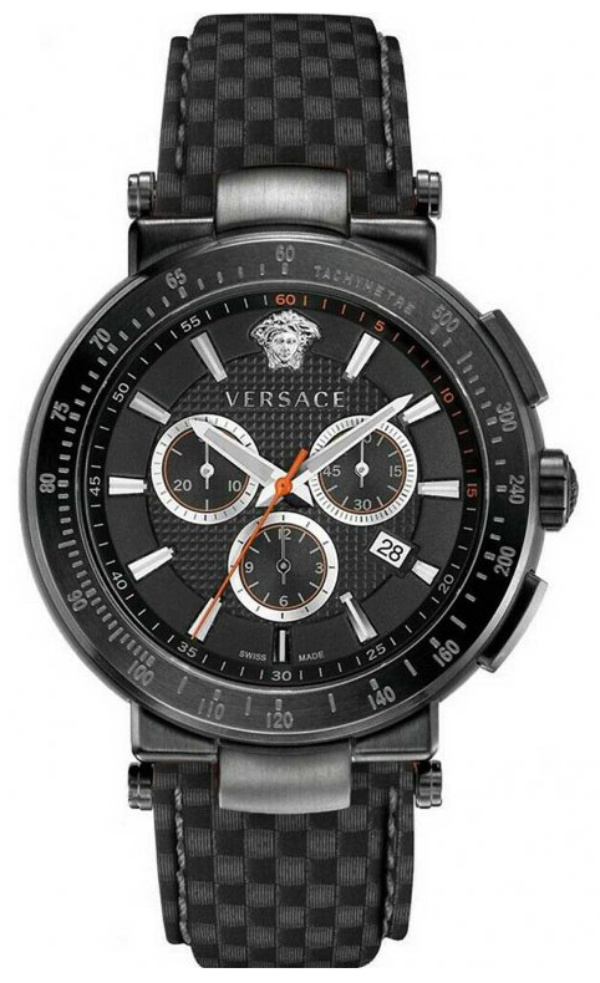 The Versace VEFG02020 is another impressive and large black men's watch with a black leather strap and a striking gold case. Not as big as the TW Steel, the Versace measures 46 mm, but still certainly quite striking. This watch has a also a chronogaaph and a tachymeter and features a Swiss movement. By the way, this watch is all Swiss Made. The black dial with silver accents exudes luxury and elegance and is well protected by sapphire crystal. Waterproof is also this watch but don't go swimming with it, this watch cannot withstand that.
Plus point: Swiss movement for accuracy and durability.
Downside: Waterproof yes, swimming no.


This was an overview of 10 beautiful black watches. Each watch has its own unique features, from sporty functionality to luxurious glamour. Whether you are looking for a watch for adventurous activities, formal occasions or just for your everyday style. Is a black watch something for you and would you like to see many more timepieces check out all of WatchXL's black watches.