The TW Steel TW1017 Nigel Mansell Limited Edition is one of the newest TW Steel Fast Lane watches. This limited edition is specially made for and inspired by Nigel Mansell. A very exclusive men's watch that will only be available for a limited time and that of course has its own unique serial number.
Nigel Mansell watch: Ode to Nigel Mansell
This Canteen with Swiss movement refers to Mansell's legendary Williams FW14B Formula One car with which Nigel became world champion in 1992.

Ronda Z60 Swiss Made movement
The beating heart of the TW1017 is a reliable, energy-efficient and accurate Ronda Z60 timepiece. The Ronda gives the watch a battery life of 50 months. That is more than 4 years and on average longer than with many other watches. This multifunctional quartz movement not only indicates the time but can also be used as a chronograph.


Double Layered Blue Sunburn Dial
The TW Steel TW1017 has a beautiful blue sunburn dial that is made up of 2 layers. The anti-reflective sapphire glass gives a good view of the dial and also protects very well against scratches and damage.

Yellow leather watch strap with black stitching
The yellow leather watch strap is especially beautiful. It really stands out and fits nicely with the black case. We have already seen yellow straps with the Coronel versions and our experience is that this color is quite popular.
The case diameter of this watch is 46 mm and that is quite reasonable. Not as 'XL' of course as the 48 and 50 mm Canteens as we have seen in the past, but the TW1017 seems quite hefty. This is partly due to the large pushers and large crown, but also the steel connection on the watch strap makes the case appear larger than it actually is.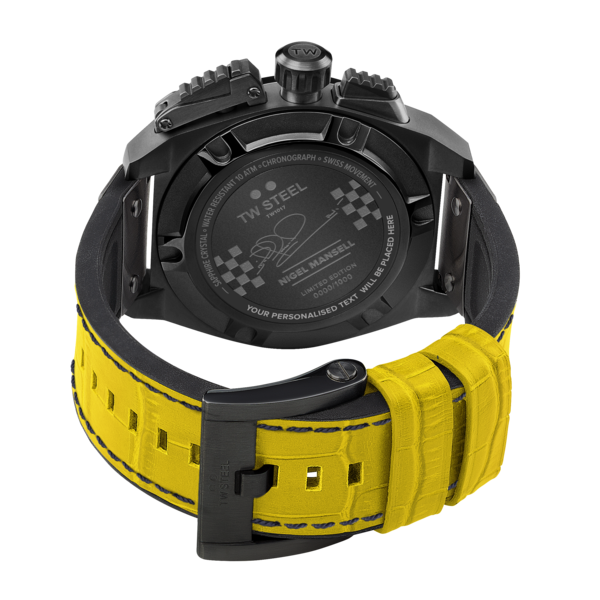 Engraved Nigel Mansell caseback
A Nigel Mansell watch must of course be in Nigel Mansell style. And this model certainly is. The color scheme is similar to the Williams FW14B racing monster, yellow, blue and a red 5. This, together with the unique engraved back, makes this watch a real Formula 1 and Nigel Mansell collector's item!


TW Steel Fast Lane: Speed ​​and adrenaline
The Fast Lane watches are all inspired by the legendary drivers such as Nigel Mansell, Damon Hill and Petter Solberg and are very suitable for lovers of speed and adrenaline.


Find your unique Fast Lane model on WatchXL.