TW Steel has once again succeeded in bringing a number of watches to the market that give the wearer wings. You get the idea, we're course talking about Red Bull watches. After the mega popular (and unfortunately sold out) Red Bull Holden models, the Dutch watch brand now brings three watches on the market that are inspired by the Red Bull Ampol Racing Team race cars. Because TW Steel loves car races, car rallies and motorcycle races. And we love TW Steel watches, so time to take a closer look at these 3 new Red Bull timepieces.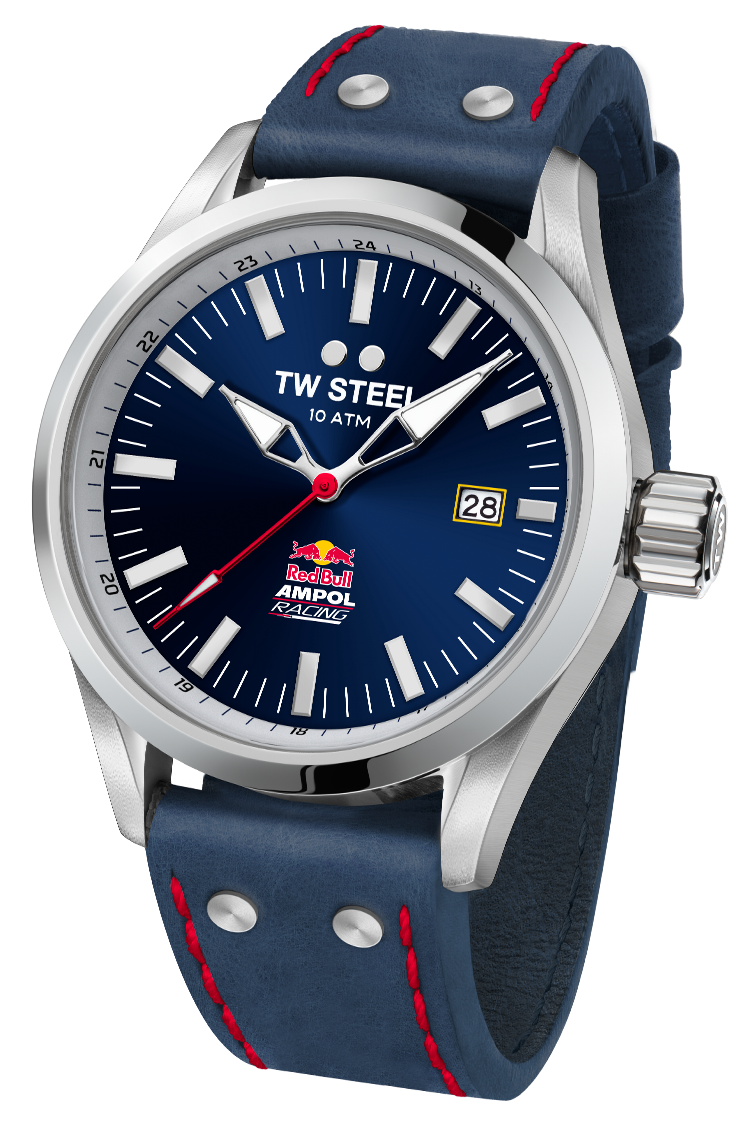 TW Steel VS96 Red Bull Ampol
If you pay attention, you might recognize something in these new Red Bull Ampol watches that reminds you of previous TW Steel models. But maybe you'll also discover some new things about these timepieces. What they have in common is that they all have a striking red-blue styling. As you would of expect from a Red Bull watch!
The TW Steel VS96 is the cheapest model in terms of price, the suggested retail price is €249.00. This model looks a lot like the earlier TW Steel Volante watches. The hands and crown do indeed resemble those first Volante models, but the hour indices are quite different.
This model seems to be a bit of a mix between these first Volantes and the new Swiss Volante collection. The VS96 watch has a reliable Citizen Miyota movement and mineral glass with sapphire coating.
Red Bull Ampol engraving
The TW Steel VS96 is water resistant to 100 meters and of course features a Red Bull Ampol Racing engraving on the back. With a case diameter of 45 mm, this model is not too large. For a TW Steel watch then…


TW Steel SVS310 Red Bull Ampol
Also the SVS310 Red Bull Ampol is a Volante model, but this one is equipped with a Swiss Movement. This movement is mainly characterized by a longer battery life. Swiss timepieces have an even higher precision, are often partly manually mounted, but also a bit more expensive than, for example, a Japanese Citizen Miyota. 
Anti-reflective sapphire crystal
Just like the VS96, the SVS310 is water resistant to 100 meters and this men's watch also has a Red Bull Ampol Racing engraving on the back. With a 48 mm case diameter, this is a fairly large watch.
Anti-reflective sapphire crystal, a screw-down crown and a dark blue Italian leather strap make this watch well worth the purchase price of €499.
1000 pieces of the TW Steel SVS310 will be produced, so you can wait for this watch to be sold out…
Last is never least at WatchXL, but we like to save some of the best for last. The TW Steel GT13 Red Bull Ampol closes the new Red Bull list, but is also the eye-catcher of this collection.
This watch has been given a unique and brand new styling. Grandeur everywhere, with very striking features. Take that multi-layered dial with raised light titanium bridges and chrono-eyes: a first-class eye-catcher.
On the bezel you will find those sturdy 'imbus' nuts that are somewhat reminiscent of the Grandeur Tech collection of this Dutch watch brand. In addition, the bezel is rough brushed with shiny details here and there.
Swiss Ronda 5030.D. movement
This racing model is also quite large: the case diameter is 47 mm. The GT13 naturally has anti-reflective sapphire glass and a Swiss Ronda 5030.D movement on board. It also guarantees a battery life of 4.5 years. Like the previous models, this watch is also water resistant to 100 meters and features a Red Bull Ampol Racing engraving on the back.
A supple, moisture-resistant strap made of soft rubber on Italian leather ensures that you will enjoy wearing this watch.



A point of attention is that these watches are all produced in limited numbers. 1000 pieces per model worldwide, so you can wait for them to sell out.