Ow, that's annoying: Your watch no longer shows the time properly. Walks behind, or acts strangely. Unless you have an automatic watch chances are it's the battery. Empty or almost empty presumably. Can even happen with a new watch, sometimes the battery has been in the factory for a while or the battery is weak. Time to replace the battery of your watch. In this blog we explain how to recognize a watch with an empty battery and what you can do best.


Recognize a watch with weak battery
A watch whose battery is almost empty can sometimes show strange problems. It is possible that the watch no longer keeps time properly and starts to lag behind. It is also possible that the second hand jumps several seconds at the same time. This also indicates that the battery is almost empty.

Read also: Open watch? That's how you do it! >


Battery almost empty?
With a chronograph whose battery is almost empty, we regularly see that the chronograph no longer functions properly. Sometimes the regular seconds hand of the watch still runs, but the hands of the chronograph don't do what they're supposed to do.
You may not immediately expect an empty battery, but rather a defect. Nevertheless, the button cell battery in the watch is often the cause of the watch not functioning properly. Our advice: Just replace the battery first and then check whether the watch is running properly again. If it still doesn't do that, a watchmaker will have to be found.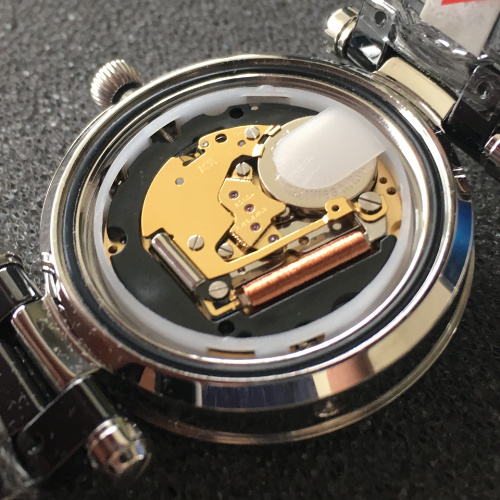 Gc watch with Ronda quartz movement and a button cell battery.
Okay, the battery needs to be replaced, now what?
Did you just buy the watch? Please contact the store where you bought it. It should not be the case that the battery of a new watch is empty within a few months. WatchXL is in any case very lenient with this. If this happens with a watch purchased from us, we will quickly solve it for you. Hopefully the shop where you bought your watch will do the same.
What can that cost, replace watch battery?
You can also have the battery replaced at a local jeweler. The jeweler can often quickly replace the battery in your watch. This is certainly a good solution for watches that are water resistant up to 10 ATM (100 meters). And well, what does that cost? Well that doesn't have to cost much at all, usually no more than 10 euros without a watertightness test. It is a small job for the expert.


Replacing the battery of a diving watch? Water tightness test!
Replacing the button cell battery in a diving watch is going to be a different story. If you have a diver watch or a watch that must be guaranteed to be waterproof up to a certain water depth and with which you can really diving, then it is better to leave the replacement to the expert. In that case, the watch will also have to be checked for water resistance after replacing the battery.


Replace the watch battery yourself?
Hopefully your watch will keep running on time for a long time to come. A little battery can really last 2 years. And don't you want all this hassle? Then take a watch without a battery such as an automatic watch or a Citizen Eco-Drive.

We wish you the best of luck with your battery replacement and lots of wearing pleasure!