Time for a new piece of jewelry on your wrist? Looking for a solid and reliable men's watch? We recommend 8 excellent men's watches of high quality and an even higher price-quality ratio. And that quality is very important to us, because we know a watch is not only for decoration. Even a cool looking men's watch just has to do what it is made for: display the time. In this Watch News, we show you 8 very good men's watches of the moment. These are 8 of the best men's watches available.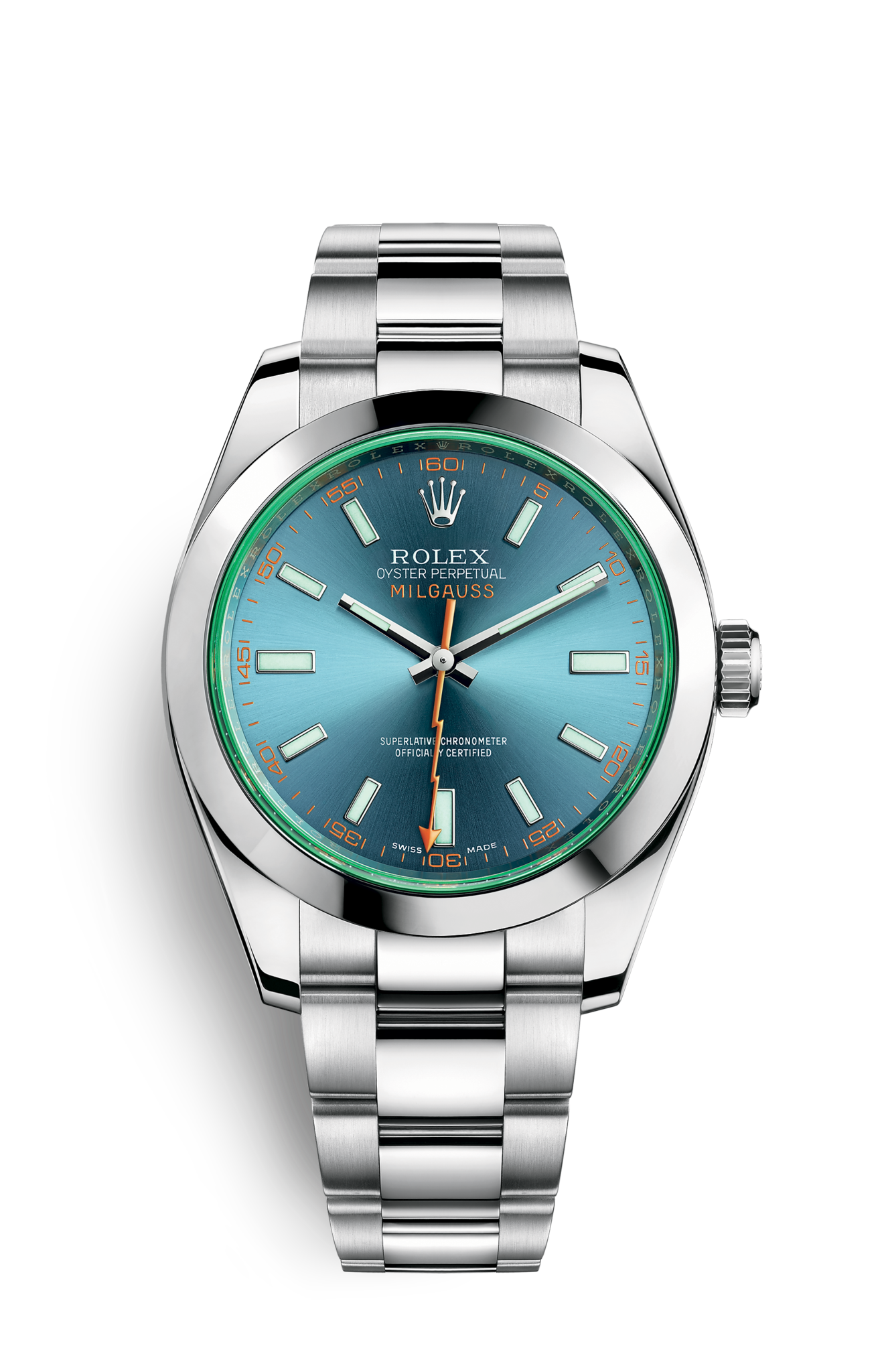 Foto: Rolex.com
Rolex Oyster Perpetual Milgauss
One ​​of the finest and very best men's watches is the Rolex Oyster Perpetual Milgauss. A groundbreaking anti-magnetic watch that meets the highest demands required for engineers and scientists to wear this watch. The first model of this Rolex watch was released in 1956 and was specially made for, among others, technicians and scientists at CERN in Switzerland. The watch needed to be able to deal with very high magnetic fields of up to 1000 gauss (mille means a thousand in French, so you can figure out why this watch is called 'Milgauss'). This watch can withstand that high magnetic energy very well.
The latest Milgauss models are inspired by this first model. today, you can buy the newest Rolex Milgauss at a Rolex dealer starting at €15,700. And to be honest, that price for a real Rolex is not that bad, isn't it?



Breitling Superocean Heritage '57 Outerknown
One ​​of our favorites is the Breitling Superocean Heritage '57 Outerknown (nice name). A model that was already designed in the 1950's and that is still leading the way when it comes to cool men's watches. The Breitling Superocean Heritage '57 Outerknown was designed in collaboration with a surf clothing brand, hence the looks of this watch. The watch strap is made of nylon made from recycled fishing nets.
Excellent men's watch
With a 42 mm case diameter surrounded by a ceramic bezel and a dial with extra large indexes, this Superocean is an excellent men's watch.
The Superocean Heritage '57 Outerknown is powered by the Breitling Caliber 10 movement, a COSC-certified chronometer.
The Breitling Superocean is priced around €5,100, for more info see Breitling.

Read also: 'This is the most expensive watch in the world'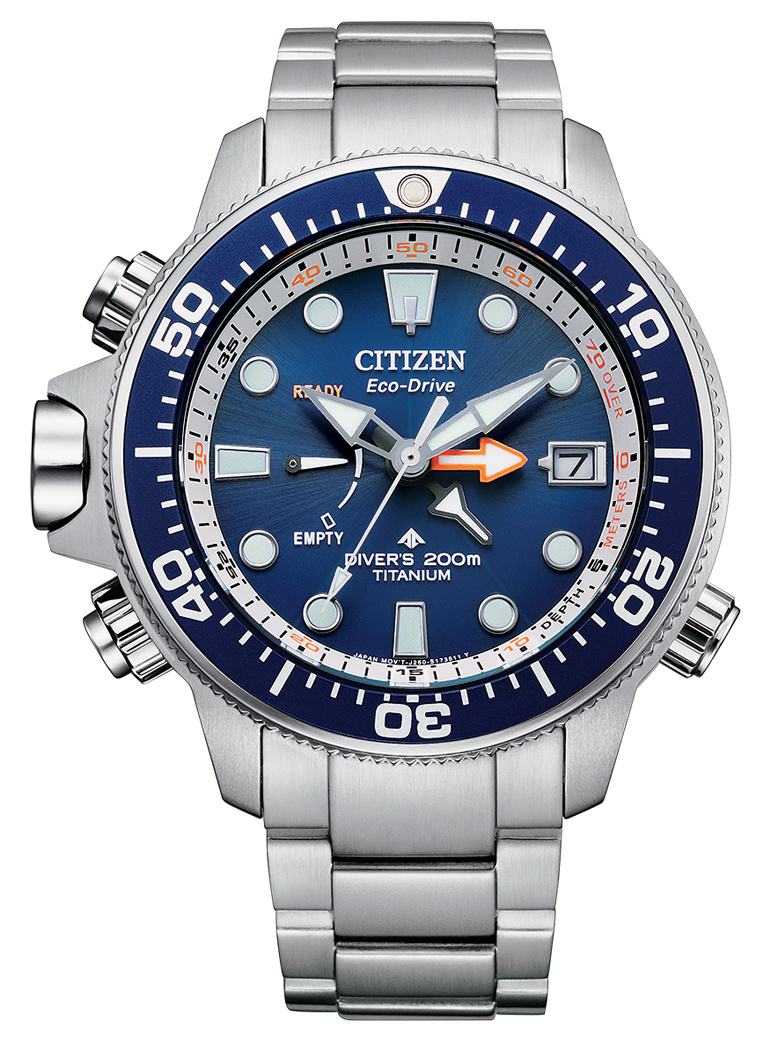 Citizen BN2041-81L Promaster Aqualand Eco-Drive
One ​​of the coolest men's watches available in our own shop is the Citizen BN2041-81L. If you're looking for a watch that will last a lifetime, you might consider a Citizen. From experience we know Citizen watches are very reliable. It is a excellent and solid Japanese watch brand. Citizen watches very rarely stop working and problems almost never really arise (in our experience anyway). The service Citizen offers when something does go wrong is excellent.
Anti-allergic Super Titanium
The BN2041-81L Promaster is a diving watch made of Super Titanium. A material that is anti-allergic, anti-magnetic and very scratch-resistant. The cool blue dial stands out nicely, the diving ring completes the looks ans is very useful for divers.
Yes, you can really explore the deep sea with this men's watch: it is guaranteed water resistant up to 200 meters (20 ATM). But you certainly don't have to be a diving athlete to like this model. It is a wonderful watch to wear even when you're walking on the high grounds.
Hypermodern Eco-Drive
Of course, this Citizen diver is equipped with the Eco-Drive system developed by Citizen. The ultramodern movement in this men's watch is charged by the smallest ray of light.
Furthermore, a depth meter and a decompression alarm are part of the equipment of this men's watch.
This Citizen watch has a suggested retail price of €895.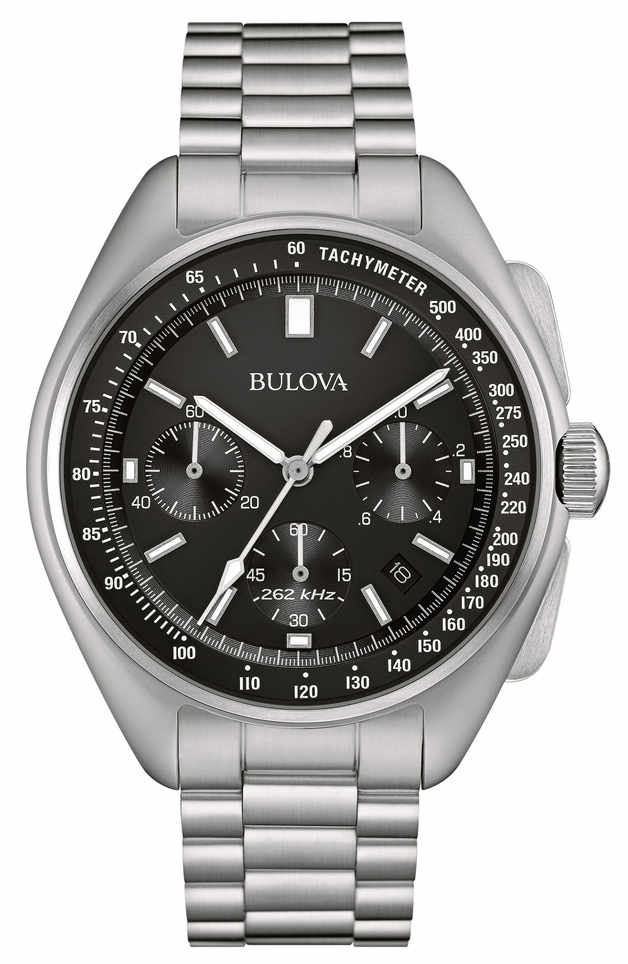 Bulova Lunar Pilot Chronograph (Moon Watch)
The Bulova Lunar Pilot, or the 'Moon Watch' (we already wrote about the Moon Watch earlier ),  is a remake of the original Bulova watch that was worn by astronaut Dave Scott when he walked on the moon during thew Apollo 15 moon journey in 1971. 
262 kHz movement
The Lunar Pilot chronograph is a superior replica, updated with a very contemporary and exclusive high-performance 262kHz quartz movement. A timepiece with a clock frequency that no other watch manufacturer has ever managed to match.
Technical feat
The Lunar Pilot may seem extraterrestrial, but it is equipped with 'terrestrial' functions such as a tachymeter, chronograph and a calendar. In addition, this watch is water resistant to 50 meters. We don't know whether you should go on a space journey with this watch, but with a Bulova 96B258 Lunar Pilot you really have an exceptional technical feat on your wrist. A very reliable watch for men who like a watch with a nice story.
A Bulova Moon Watch Lunar Pilot has a suggested retail price of about 549 euros.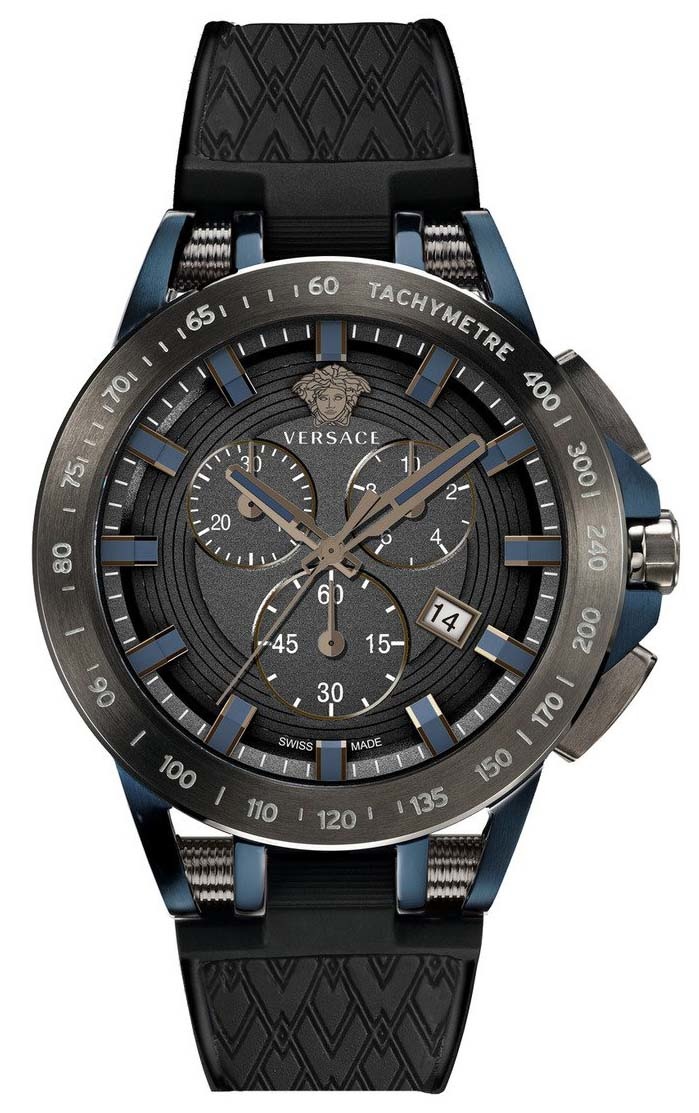 Versace VE3E00221 Sport Tech men's watch
Most men in general like beautiful and well-known brands. Versace is such a well-known brand. You wear a Versace to show it to the world, it is a brand to show. The Versace VE3E00221 is a very different kind of timepiece compared to the men's watches described above. In any case, it looks quite sporty. And it should, because this Sport Tech is made to to wear while exercising. The rubber watch strap is moisture resistant and the watch itself is water resistant enough to be able to swim with it.
Swiss watch with long battery life
Every Versace watch is made from excellent materials. For example, this sporty men's watch has sapphire glass and a Swiss Ronda timepiece that is accurate and energy-efficient, so the battery will lasts a long time. A handy chronograph is part of the equipment, enabling you to time your sporting activities with this model.
This Versace VE3E00221 is currently available for €699



TAG Heuer Formula 1 X Red Bull Racing
Wow, great! A real Formula 1 watch! And one of the best Formula 1 team in the world. We don't have to tell you which team that is of course, well, just think of Max Verstappen and you should know. The Red Bull Racing logo on the dial says it all. This TAG Heuer simply belongs on the favorite list of every watch enthusiast and Formula 1 fan. An excellent men's watch that is perfectly finished.
Red Bull Racing watch
This TAG-Heuer Formula 1 timepiece was made in collaboration with Red Bull Racing and therefore a unique watch that immediately reminds you of Max Verstappen. A tribute to the best Formula 1 racing team of the moment.

Tip: Find our Red Bull watches here



Waterproof up to 200 meters
The TAG Heuer Formula 1 has an energetic blue dial with highlights in red and yellow and a sturdy 43 mm steel case that is water resistant to 200 meters. The steel watch strap is engraved with the TAG-Heuer logo and has a double security so that it will never fall off your wrist.
The suggested retail price of this unique model is currently $1,900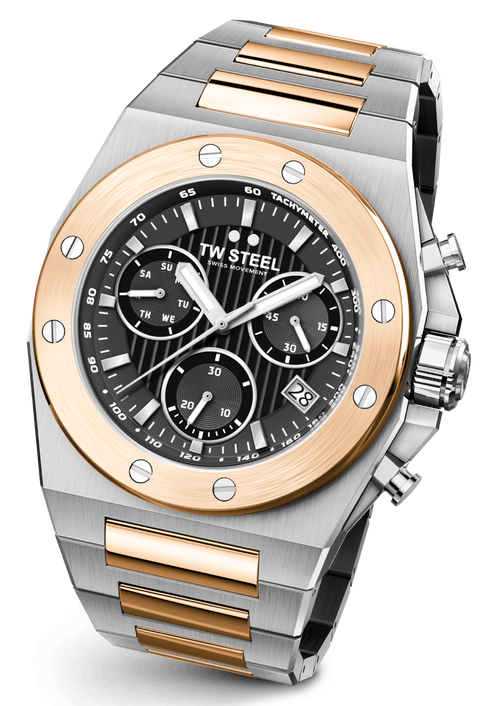 TW Steel CE4083 CEO Tech Chronograph Watch 45mm
The TW Steel CE4083 CEO Tech is another item that can be found in our own shop. Released in 2021, this watch is one of the newest CEO Tech models. The time when TW Steel only released large watches in a price range up to 300 euro's is long gone. Nowadays, the Dutch watch brand is doing well in the somewhat higher price range segment. The specifications of the watches have certainly been upgraded. There is no skimping on a Swiss timepiece more or less. Sapphire glass is almost standard part of every TW Steel watch these days.
Battery life of 50 months
The CE4083 is with its case diameter of 45 mm not a small juwelry. A pretty tough chronograph that is water resistant to 100 meters. An excellent and reliable Swiss Ronda Z60 timepiece accurately displays the time and does so very energy-efficiently. The battery life is a whopping 50 months. You have to appeal to the rose gold with silver look and if you do then you'll have a beautiful men's timepiece with this watch.
The Swiss Made CE4083 from TW Steel is available for €725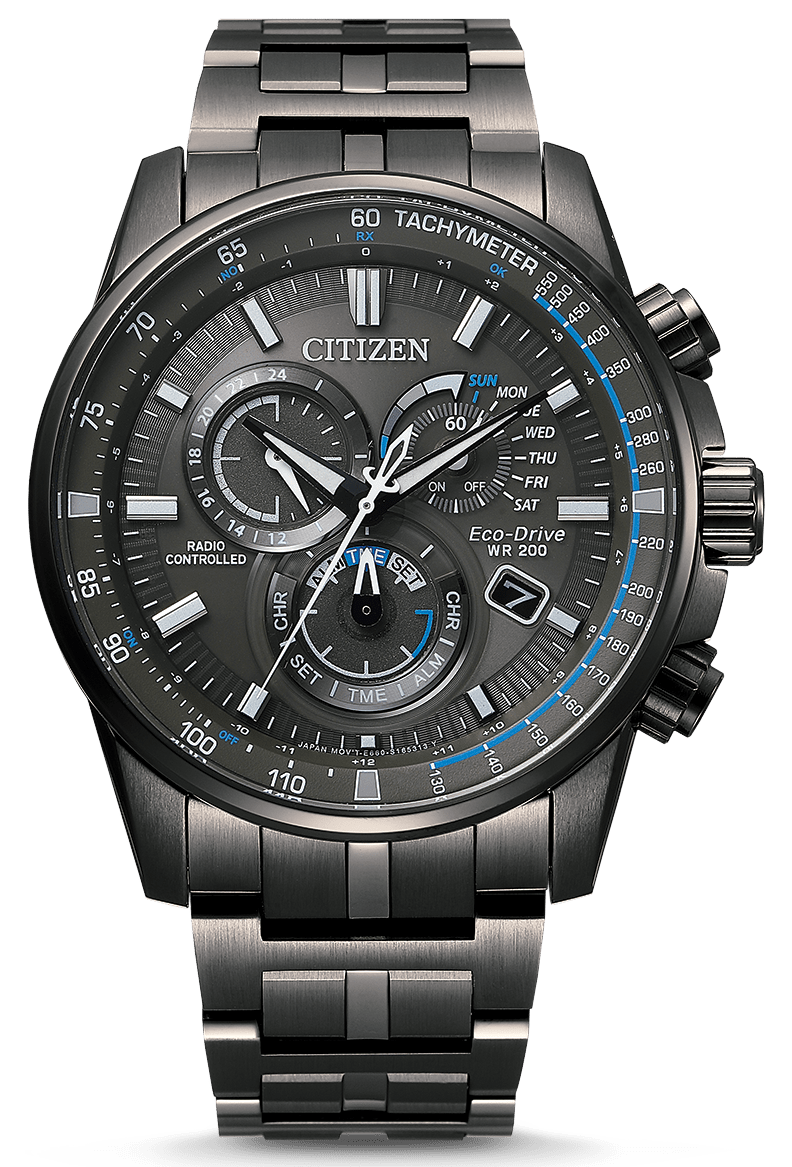 Citizen CB5887-55H Promaster Sky Radio Controlled Watch
One ​​of the best and most beautiful men's watches in our overview of best watches is the sturdy, black, Citizen CB5887-55H Promaster Sky Radio Controlled watch. A fully equipped Citizen with a case diameter of 43 mm. This watch is extremely reliable. You'll not find a smartwatch in this 'Best watches list', but this Promaster watch is one of the smartest watches we have. With features like an Eco-Drive movement, perpetual calendar, world time, stopwatch and an energy indicator, this watch is truly an excellent men's watch. Of course it is equipped with sapphire glass: a much more scratch-resistant material then, for example, mineral glass.
Very accurate time display thanks to atomic clock
This Citizen is one of the most accurate watches available today. It is controlled by the signal of the atomic clock giving it a deviation of no more than one second per million years. This men's model is charged by light and once fully charged has an energy reserve of no less than 3 years.
The Citizen CB5887-55 Promaster is in our opinion one of the most beautiful and best men's watches of the moment. Reliable, solid and beautiful to look at.
Review price of this watch is currently €549



Curious about our range of men's watches? View our best men's watches.