A titanium watch has special features that a normal steel watch does not have. A timepiece made of titanium is stronger, lighter and anti-allergic. Do you suffer from allergic reactions such as rash, itching or irritation from a steel watch? Then choose a titanium watch. Chances are you will be released from your problems. In this blog you can read about the advantages of a titanium watch.
What is titanium?
Titanium is a metal type that is extracted from rutile ore. Pure titanium is quite difficult to obtain because this metal oxidizes fairly quickly and reacts with carbon. It was only in 1922 that it was first successful to prepare pure titanium. Titanium is not very rare: it is abundant in minerals on the earth.
What is the difference with steel?
Titanium is especially very resistant to corrosion. In principle it is just as strong as steel but has a much lower density, with titanium you can achieve the same strength but with less weight. Titanium is resistant to very low and very high temperatures, which is why titanium is widely used in aviation and aerospace. In addition, it is also very light, which is certainly useful when building a rocket or an airplane!
Anti allergic
Because titanium is anti-allergic, strong and easy to work with, it is also a popular material in the jewelry industry. It is also regularly used for watches. Titanium is a particularly good solution for people who are allergic to steel. Titanium is very resistant to sunlight, water and perspiration.
Titanium watches
If you choose a titanium watch, you choose a skin-friendly, light and strong watch. Various brands have titanium timepieces in the range. WatchXL also has a large number of titanium watches, including V.O.S.T. and Citizen. In addition, there are also steel watches with a titanium coating. This is of course not the same.
In addition to the V.O.S.T. watches you will also find Citizen watches made of Super Titanium: a material 5x harder than steel, very light and very comfortable to wear. Super Titanium is obtained by extra hardening the surface of the material. This makes super titanium watches even more scratch resistant, lighter and anti-corrosion. The anti-allergic properties of a Citizen Super Titanium watch are even better.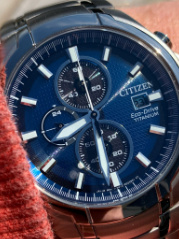 A titanium watch is a good choice. They are stronger, much lighter and above all better for your skin. Take a look at our titanium watches here.