From our extensive range of men's watches we have made a cool top 10 with our most striking, special, men's watches. Ten models that we think are really worthwhile and that are very beautiful for the real enthusiast. An overview of special men's watches that are distinctive in color, size or other specifications.


10. TW Steel CE4080 with steel watch strap
That tenth place is actually a bit on the low side for this watch, but let's be honest: the TW Steel CE4080 CEO Tech is not officially on the market at the time of writing. It is expected to be in stock in May this year. The reason to include it in our Top 10 men's watches is that TW Steel is finally coming up with a watch that has a steel watch strap.
In recent years we have seen many TW Steel timepieces with, among other things, a leather watch strap or leather on rubber. We were regularly asked by our customers whether there are still TW Steel models with a steel watch strap. And they are coming!
Swiss chronograph movement and sapphire crystal
The CE4080 is a new quartz watch from the CEO Tech collection. This chronograph is equipped with a Swiss movement and sapphire crystal. Luminous hands and a handy butterfly clasp are also included with this TW Steel. If you plan to go to the water's edge, it is not necessary to take off the CE4080, because it is waterproof enough to go swimming with it.
Case diameter of 45 mm
The case diameter of this TW Steel watch measures 45 mm. That is not so bad for a TW Steel, but it seems a bit sturdier due to the fairly wide watch strap. The CE4080 is a beautiful men's watch that is likely to score even higher in the rankings.





9. Versace VEHB00619 V-Chrono: Italian Style Men's Watch
The Versace VEHB00619 is a men's watch of a completely different caliber. And with caliber we are not talking so much about the timepiece here, because that is a Swiss Ronda timepiece, just like with the aforementioned TW Steel. It is especially the outside of this watch that is completely different. Outward appearance and that is exactly what you expect from an Italian fashion brand. On the dial Greek Greca symbols, gold-coloured elements and striking brand logos: This watch is completely Versace.
Detailed Chronograph
The Versace VEHB00619 V-Chrono is a chronograph with a detailed finish. This can be seen from the dial, the case, but also the watch strap. The case measures 44 mm by the way. That's not super big, but just average.
Sapphire crystal and luminescent hands
Under the sapphire crystal you will find luminous hands and numbers on a beautifully finished dial. The Italian is waterproof enough to take a shower, but swimming is not recommended with this men's watch.
At Versace everything is luxurious and this model is also a beautiful display and a beautiful piece of jewelry for the enthusiast.





8. Paul Rich Frosted Star Dust Silver: Starry sky on your dial
Paul Rich is one of our newest brands and is incredibly popular. The Paul Rich FSD05 is one of our bestsellers. But is it, with that aventurine dial, a distinctly men's watch? It just depends from which side you look at this watch. And however you look at it, the FSD05 doesn't look the same from both sides. This is due to the Frosted Star Dust effect with which this Paul Rich is adorned. The dial is also quite unique to see. A glittering starry sky looks most like it.
Surely not every man will like this model. A plan of stars on your watch… Yet this model is so popular that it should not be missing in this top 10 men's watches.
Case size of 45 mm
The Paul Rich FSD05 has a cross section of 45 mm and is about 11 mm thick. If you find this too large, there are other models with a diameter of 42 mm. A similar model is also available with an automatic movement instead of quartz, but you pay a bit more.
The FSD05 is waterproof up to 50 meters, so you can't go swimming with it.
Corning Gorilla glass
This Paul Rich watch is equipped with Corning Gorilla glass that is also used in the latest smartphones. You will see less fingerprints on this glass, it is less sensitive to scratches and also breaks less quickly because it is quite flexible. Gorilla glass is also very clear so that the dial stands out nicely.



7. Citizen CC9025-51E Satellite Wave watch
This Citizen Satellite Wave watch is about the coolest watches we have for sale. There is a considerable price tag attached to this: €1695 is the current selling price.
Satellite Wave: Signal from outer space
That price may be a bit of a shock to you, but for this amount you are completely up to date. And it stays that way once you own it, because this Citizen runs on time thanks to the signal from GPS satellites. The Satellite Wave technology receives position data and a time signal from GPS satellites orbiting the Earth at an altitude of 20,000 kilometers. This watch not only shows the correct time but also your exact location.
Men's watch with Eco-Drive
This Citizen watch doesn't contain a battery that you have to replace every few years, but an ingenious and modern Eco Drive. It gets its energy from (sun) light. Once properly charged, you can store the watch in the dark for 5 years before it runs out of energy.
Made of scratch-resistant Super Titanium
The Citizen CC9025-51E is not, like the other watches in this watch top 10, made of steel, but of the much harder Super Titanium. This is a lighter and even more scratch-resistant improvement of titanium. You notice that immediately because this watch weighs relatively little at 126 grams.
Another advantage: Super Titanium is strong and very scratch-resistant, so that this watch (with normal use) will still look perfect in ten years' time. can look like.




6. Philipp Plein The $kull watch: with skulls
It just keeps getting crazier at WatchXL. And this Philipp Plein watch is a bit the black sheep of our men's watches. The skull on the dial and the watch strap are remarkable to say the least.
Skulls: eye-catchers or not?
With a case diameter of 44 mm and a case thickness of 15 mm, this men's watch is quite substantial. With this Philipp Plein on your wrist you certainly have something to show.
The skulls are eye-catchers, but also ensure that not everyone will find this watch beautiful. In any case, it is an artistic clock, we would not have expected anything else from the creative spirit and fashion designer Philipp Plein.
The specs of the $kull
The Philipp Plein PWAAA0721 is equipped with a reliable Japanese timepiece and is waterproof enough to take it with you in the shower or bath. A walk in the rain won't hurt it either, but you shouldn't go swimming with this watch either. This men's watch has hardened mineral glass and a flexible silicone strap.
Otherwise, with this model you'll get a free bucket load of attention from anyone who glances at your wrist!




7. TW Steel MS34 Maverick
You might be thinking, 'Another TW Steel?' Yes! Can't do otherwise. It's just 'our' brand. For over 15 years. And the MS34 Maverick is one of the most beautiful men's watches you can find. Despite the fact that this Maverick has been on the market for several years, it is still an extremely popular men's watch. This is due to the cool matte black case and certainly also to the size of the same case: 48 mm! We think that's wonderful. XL watches may not be as popular as they were years ago, but they are still loved.
Watch with a fuel cap
The MS34 has a very nice round case with knobs and crown inspired by the fuel cap and cylinders of a motorcycle. On board a chronograph movement with date display. The watch strap is made of a beautiful piece of leather and equipped with a handy system with which you can detach the watch strap in no time. Any 24 mm watch strap with a straight attachment fits on this watch.
Waterproof up to 100 meters
Looking for the water's edge? No problem, the TW Steel Maverick is waterproof up to 100 meters. Do pay a bit of attention to the strap, leather and moisture don't go well together.
The MS34 is a popular topper with a reliable Citizen Miyota under the flip lid.





4. Swiss Alpine Military 7032.9877
Funnily enough, there is always a Swiss Alpine Military watch somewhere in our overviews and lists. Logical. They stand out in quality and price ratio. Also this Swiss Alpine Military 7032.9877: a black whopper with a case diameter of no less than 50 mm. A whopper. Looks much bigger than it actually is due to the wide watch strap. Just a big clock.
Swiss watch & waterproof to 100 meters
The 7032.9877's highly visible indexes and hands are luminescent. This Swiss also has a chronograph movement, under the flap lid even a reliable Ronda ticks away the seconds. The waterproof case to 100 meters water depth also ensures that it can continue to do so no matter what the wearer is up to in the water. At 3 years, the warranty on Swiss Alpine Military is one year longer than on many other watch brands.
A gem of a men's watch
This gigantic, black men's watch is a must for lovers of striking men's clocks. This model also shows that you have a thing for watches. Are you more of the subtler, chic watches? Then you better skip this Swiss Alpine Military winner…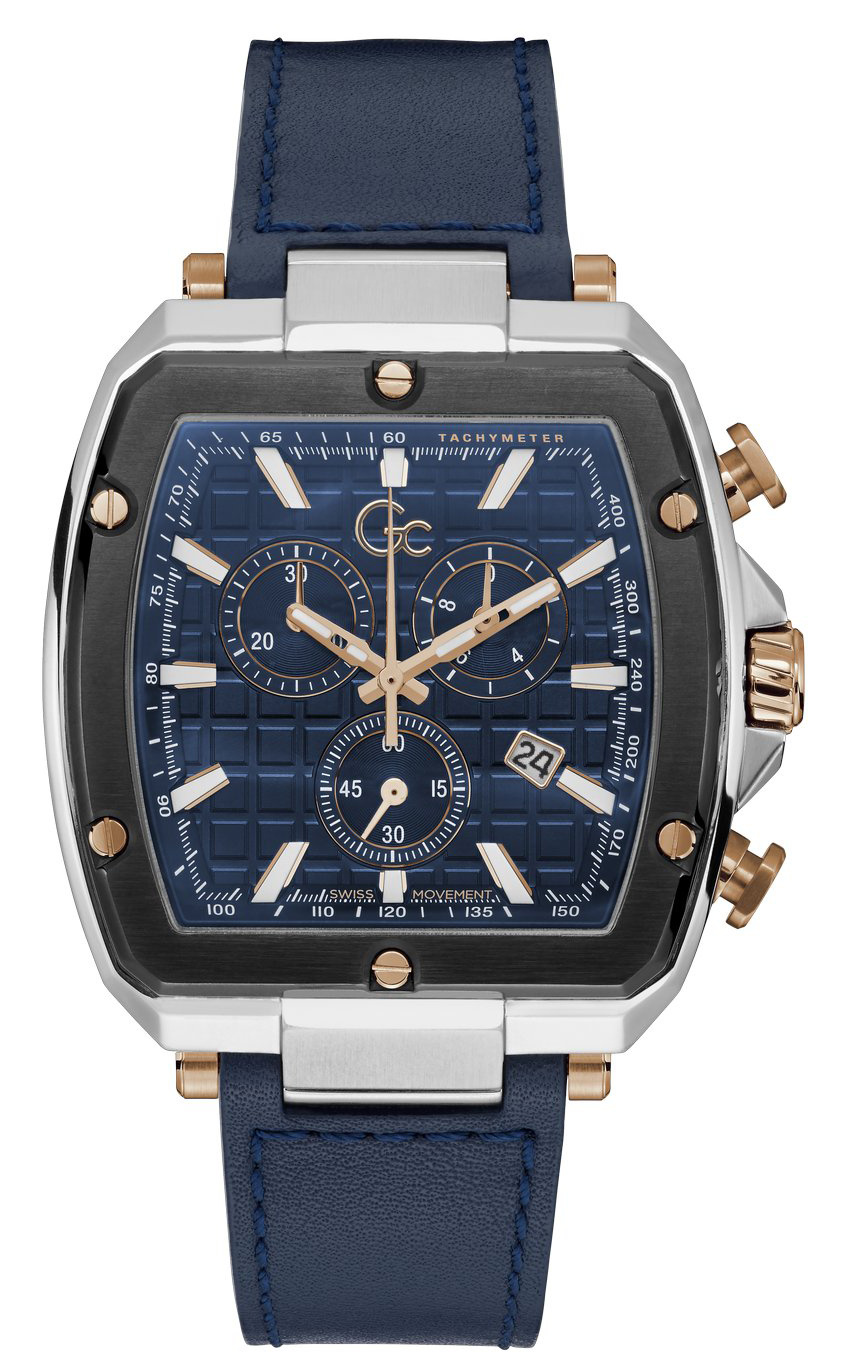 3. Gc Y83001G7MF Spirit Tonneau: for the tonneau enthusiast
Just a little bit different, that's this Gc Spirit Tonneau. This men's watch has a 48 mm rectangular case in which a Swiss chronograph movement is placed. The shape of the cabinet immediately gives this model a business-like, chic look. The rose gold-coloured elements combine beautifully with the blue dial and the silver-coloured case.
Luminous hands from Super-LumiNova
This watch has excellent luminous hands and indexes with Gc opting for Super-LumiNova. When you put this watch in the light for a long enough time, it can light up to a maximum of 15 hours in the dark.
Brushed and shiny steel
Gc pays great attention to the details. This is also clearly visible in this model. Each index and each chronograph eye has a beautiful gold-coloured rim. The case is also a cool composition of matt brushed and shiny steel
But just like the Swiss Alpine, this Gc Tonneau is also a decent lad. A very fine and striking clock for lovers of tonneau models!




2. Citizen Promaster JY8058-50L
The Citizen JY8058-50L is a very special watch. Specially made for the United States Navy squadron 'The Blue Angels'. Do you know? This is a world-famous flight demonstration team that participates in air shows all over the world with its F18 Hornet fighter jets. How many more men's watches do you want?

Radio-controlled Eco-Drive controlled by the atomic clock
The JY8058-50L is a hypermodern, radio-controlled Eco-Drive watch with, among other things, an eternal calendar, alarm and world time on board. This model has a power reserve of 180 days and is kept fully on time by the signal of the atomic clock. Summer time, winter time or date change: you never have to adjust this watch.
Of course this Citizen is equipped with a chronograph, but one that doesn't bother about 1/100 of a second. Many chronographs can time up to 1 hour, this Citizen can time up to 24 hours. It can also count down from 99 minutes to 0.
Pretty big watch
This Citizen is quite a bitch: case diameter of 49 mm! At 200 meters, the cabinet is so waterproof that you can do almost anything underwater with it. You get a decent manual with this model, because Citizen does everything it can to make it easy for you. That is really one of the advantages of this watch brand: reliable, very high quality and perfect service if there is anything.
Made for the US Navy
The fact that the JY8058-50L Sky is made for the US Navy can be seen from the dial, but also from the valve cover. The Blue Angels logo is clearly placed on the watch. This Promaster is a real high-flyer!



1. Philipp Plein PWBAA0221 The $keleton
Like the Philipp Plein $kull already mentioned in this top 10, this $keleton from Philipp Plein is also one of the most remarkable watches of the moment. It is difficult to estimate how trendy you find a skull on your dial, at least we know that this model is very popular.
Philipp Plein: artistic works of art
In terms of clothing and fashion, the German fashion designer Philipp Plein is doing very well among the young, but his watches are also artistic works of art that attract a lot of attention.</ p>
Snoop Dogg
This $keleton watch is a so-called tonneau model, which refers to the rectangular shape of the case. In that case is an automatic Seiko movement. There are gradually quite a few celebrities who have been spotted with a Philipp Plein. Among them are Lindsay Lohan, Rita Ora, Snoop Dogg and Grace Jones.
Just a skull face…
This Philipp Plein men's watch measures 44mm and is 14mm thick. No stopwatches, chronographs or date display with this timepiece. No, 'just' a dial with a skull. It is simply the logo of Philipp Plein. Some think it's overdone, others think it's cool.
Transparency dial
The dial is slightly transparent so that you can partially see the internal movement. The back of this $keleton is also partly made of glass, so you can see the eccentric rotating of the automatic movement.
The $keleton waterproof to 100 meters is an artistic work of art and an excellent men's watch!





For more beautiful watches for men, check out our men's watch assortment.