The brandname Versace is widely known and even if you have nothing to do with this brand, you must have been under a stone when not have heard of this Italian fashion brand. But what about Versus? In this blog we will look at the differences between the watches of both brands. A kind of Versus vs Versace!


Versace mens watch

Tip: These are the best Versace Watch offers >


Versace: clothing, watches and more
Whether it concerns watches, clothing or other items: Versace is popular worldwide. That is a bit different with Versus. The brand lives in the shadow of the big brother and it is a lot less known but also a fashion brand. It is even a subsidiary of Versace. It will not surprise you that the range also includes clothing, bags and watches.


Founded by Gianni Versace 
It was Versace owner Gianni Versace himself who launched Versus, a new Italian fashion brand, in 1989. The aim was to produce creative and innovative products with this label. Items containing more flair and created with a focus on new trends, even more innovative than Versace products themselves. You can see Versus as the somewhat more modern, stylish, sibling. The fashion brand was taken over by Donatella Versace, sister of Gianni.
Versus was shut down in 2005 but was relaunched in 2009 in collaboration with British designer Christopher Kane. Watches are also still part of the range.
Versus horloge
The difference between Versace & Versus
When compared, you will find some clear differences, but certainly also similarities. The biggest difference is mainly the price: Versus watches are a lot cheaper to purchase compared to the Versace timepieces. a Versus watch can be priced somewhere in between € 99 till € 350.
You can find a Versace watch roughly somewhere in the price range of € 299 to around 2k. Where the most expensive Versus ends, the price of an entry-level Versace watch starts.


Similarities between Versus & Versace
The watches of both Italian brands show similarities in, for example, the shape and design of the watch case, strap and also the use of the logo. The large medusa head, which is pontifically placed on the dial of many Versace models, can also be seen in the shape of a lion's head at the daughter brand.


Versus: Younger target audience
Who is actualy buying a Versus timepiece? What about their age? Well, quite a young and hip audience does that. We can understand they do: Versus men's and women's watches are hip and strikingly colored. These colors and the modern designs make the brand quite popular. The younger age of the enthusiasts is also due to the lower recommended prices. They are a lot cheaper compared to the watches of mother brand Versace itself. The lower price is fits better for this target group.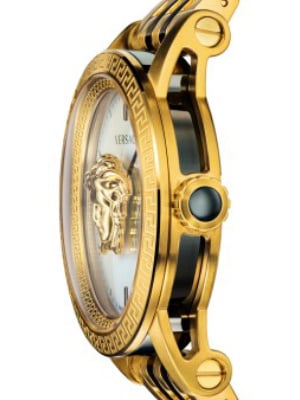 Versace Palazzo herenhorloge
How about the quality differences?
Both brands are of excellent quality. The biggest differences can be found in the specifications. For a Versace you have to pay more, but you will also get more worth the money. Better (Swiss) timepieces and sapphire glass are included. An advantage compared to the Versus (less) scratch-resistant mineral glass.
It is all in the details, the finish and the quality of the materials used that make the difference between the two brands.
But is a Versus watch a bad buy? No definitely not. They are very beautiful watches of good quality and with a lower price tag. 


Looking for a Versace watch? Find many offers here>

Does WatchXL also sell Versus watches?
Yes, WatchXL also sells Versus watches. We expect to be able to expand our stock of this brand soon. Are you interested in this brand? Keep an eye on our website, we're sure you'll find many more Versus Versace watches there soon! We also have a wide range of Versace watches. We gradually have the largest selection of watches from this beautiful brand in the Benelux. Feel free to take a look around in our shop!

Curious about our range?
Check out our range Versace watches with many offers >