One of the things you don't want a watch to do is to stop. If it does, we can only hope your timepiece is not broken (if so: read here what could be wrong with your watch) and that it's only an empty battery. After a few years, one and a half, two, maybe three years the battery is just going to be without energy. It will inevitably run out of power someday but if you're not waiting for that kind of trouble then you might consider an automatic watch or a solar powered model. In this Watch News we present to you 5 sublime men's watches that do not contain a battery that needs to be replaced in the future. 5 cool men's watches with an Automatic watches or Eco-Drive movement without battery.
1. Philipp Plein PWBAA0221 The $keleton watch
The Philipp Plein PWBAA0221 is sporty, cool to look at and it's quite popular. Designer brand Philipp Plein is not only creating very expensive designer clothes, it also have a large collection of hip and striking watches such as this automatic Philipp Plein PWBAA0221. This matte black version is one of the most popular models we have. We should also mention, however, that not everyone will want a skull on their watch. This mens watch with its tonneau watch case is equipped with a recognizable Philipp Plein skull style element on the dial.
This Philipp Plein watch has an automatic Seiko movement
This Philipp Plein model is an automatic watch, it is equipped with an excellent Seiko movement. You can clearly see the movement through the dial and the transparant back of the case. The automatic movement is clearly visible. The glass of this $kull is made of scratch-resistant mineral glass, which should ensure that scratches and damage do not easily appear on the glass.
The Philipp Plein PWBAA0221 has a case diameter of 44 mm and a thickness of 14 mm. The silicone watch strap is nice and flexible and very water resistant. This watch can withstand a splash of water very well, it is waterproof up to 100 meters. Enough to go swimming in any case.



2. Citizen NA1010-84X Series 8 Automatic
You can compare a lot of apples and oranges, but the Citizen NA1010-84X doesn't easily compare to any other model we stock. With an automatic timepiece, the rule applies: the more expensive the watch, the more accurate the time display. This model is definitely one of the very best automatic watches you can buy from us and probably also one of the best Citizen automatics on sale.
Series 8: Innovative dial design
This watch has a metal grille combined with a mother-of-pearl layer on the dial, which gives a very cool effect in the light of a lamp or in the sun. This innovative dial design creates a delicate pattern and attractive contrast between the straight edges of the octagonal case and the clean lines of the dial. In addition, the Series 8 watches have improved magnetic resistance, which is essential in our modern digital world. It provides protection against magnetic fields generated by smartphones, tablets and other devices that can affect the accuracy of the watch. The movement is only 4.1 mm thick, which means a much thinner case and the watch is therefore extremely comfortable to wear. The number 8 in the Series 8 name stands for infinity (∞) – an expression of the infinite possibilities of CITIZEN craftsmanship.
Anti-glare sapphire crystal
Other features of this Citizen include anti-glare sapphire crystal and a 48-hour power reserve once fully wound . The functions of the watch are strongly focused on practicality. This watch has improved magnetic resistance: It provides protection against magnetic fields generated by smartphones, tablets and other devices. We don't know if that is useful for you, but it is useful that the hands give excellent light in the dark. This Series 8 is also waterproof: at least you can swim with it.



3. Citizen CB5887-55H Promaster Sky Radio Controlled watch
We'll stay with our Japanese friends for a while because this watch is also a Citizen, not an automatic but an Eco-Drive. What exactly are the advantages of that read here.
3-year dark power reserve
In any case, the Citizen CB5887-55H is powered by light and can be fully charged with this men's watch walking around in pitch darkness for 3 years before it stops. And what is also special about this model is that it is radio controlled. The timepiece receives the signal from an atomic clock and that makes this Citizen very, very accurate in time display. So accurate that the deviation is no more than 1 second per 1 million years. If you arrive too late with this watch on your wrist, you'll have some explaining to do...
Super Titanium watch
With a case diameter of 43 mm and a thickness of 13 mm, this watch is medium in size and certainly no XL watch. Thanks to the black case and watch strap, this wristwatch is certainly not inconspicuous. And oh yes, we almost forgot to tell you that this Citizen is made of Super Titanium. Light in weight, very scratch resistant and anti-allergic.
Hypermodern watch with extensive functions
A hypermodern wristwatch with tricks on board such as a perpetual calendar, world time, radio controlled movement, energy reserve indicator, stopwatch, 3 year energy reserve and of course equipped with sapphire glass. And oh yes: this watch is also waterproof, up to 200 meters, so you can swim with it.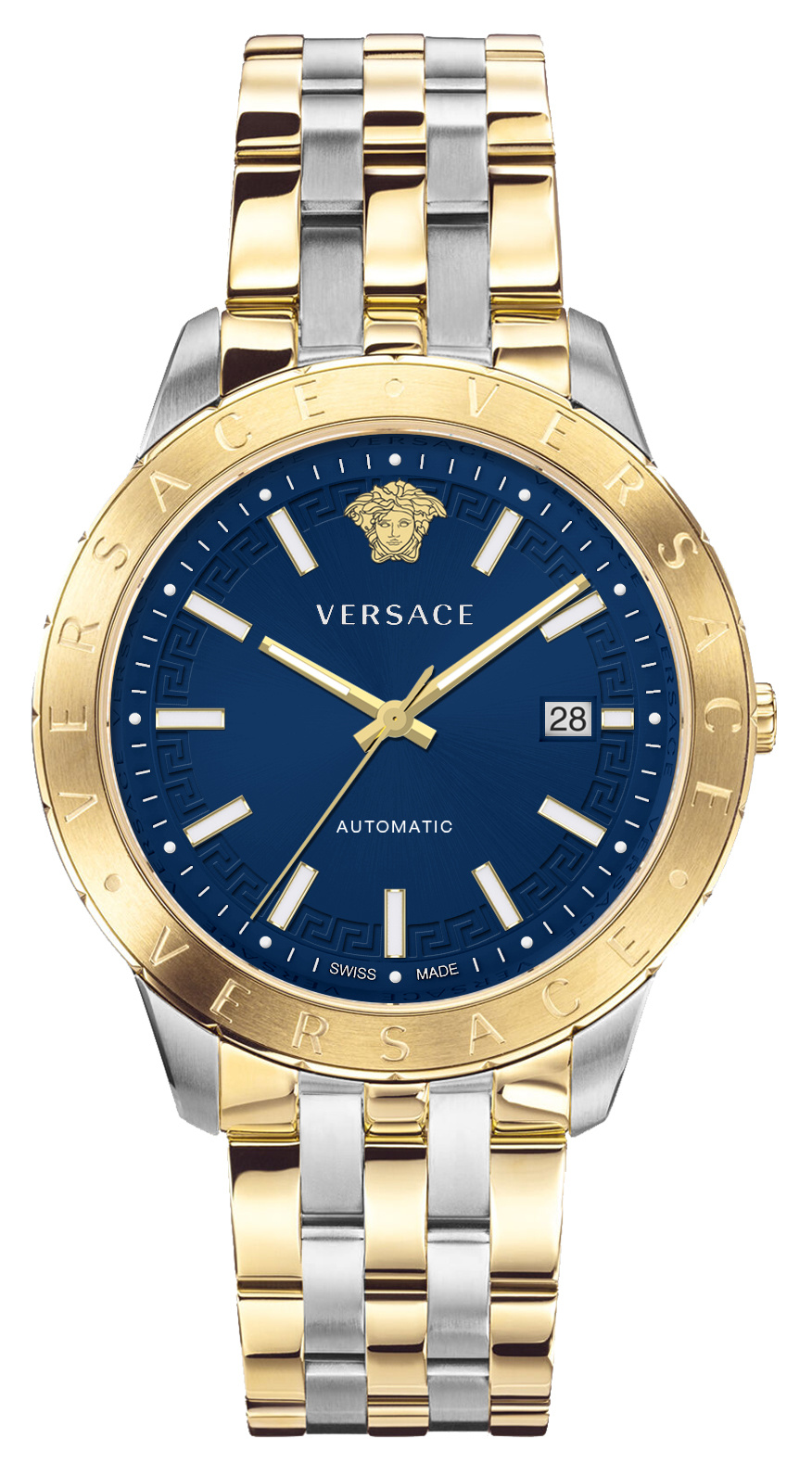 4. Versace VE2D00421 Univers automatic watch 
The Versace VE2D00421 Univers is also equipped with an automatic movement. This is one of the most popular Versace watches at the moment. The large number of Versace fans have known where to find us for years. Not surprising, because we have the largest Versace watch range in Europe.
For lovers of chic watches
The VE2D00421 is a very stylish clock and quite a subtle piece of jewelry, after all, it measures no more than 43 mm and with 10 mm you can't call it too thick. That's great because it means that this machine fits well under your clothes and if you value that clothing just as much as you do to chic watches, then that's probably all right.
Swiss Made movement
Unlike the men's watches mentioned above, which are all equipped with a Japanese movement, the Versace has a Swiss Made movement. In any case, it is known for accurate time display.
Anti-reflective sapphire glass
You can wear and show a Versace watch and the latter will succeed perfectly thanks to the large Versace Medusa head that placed on the dial. Anti-glare sapphire crystal provides a clear view of the hands and is highly scratch resistant. With a water resistance of up to 3ATM, you can't really call this clock waterproof. Yes, you can ride it in the rain. No, you can't take a shower with it, take a bath or use it in the swimming pool. That doesn't matter at all: wear this top model whenever you want to show it to the world, special occasion or not.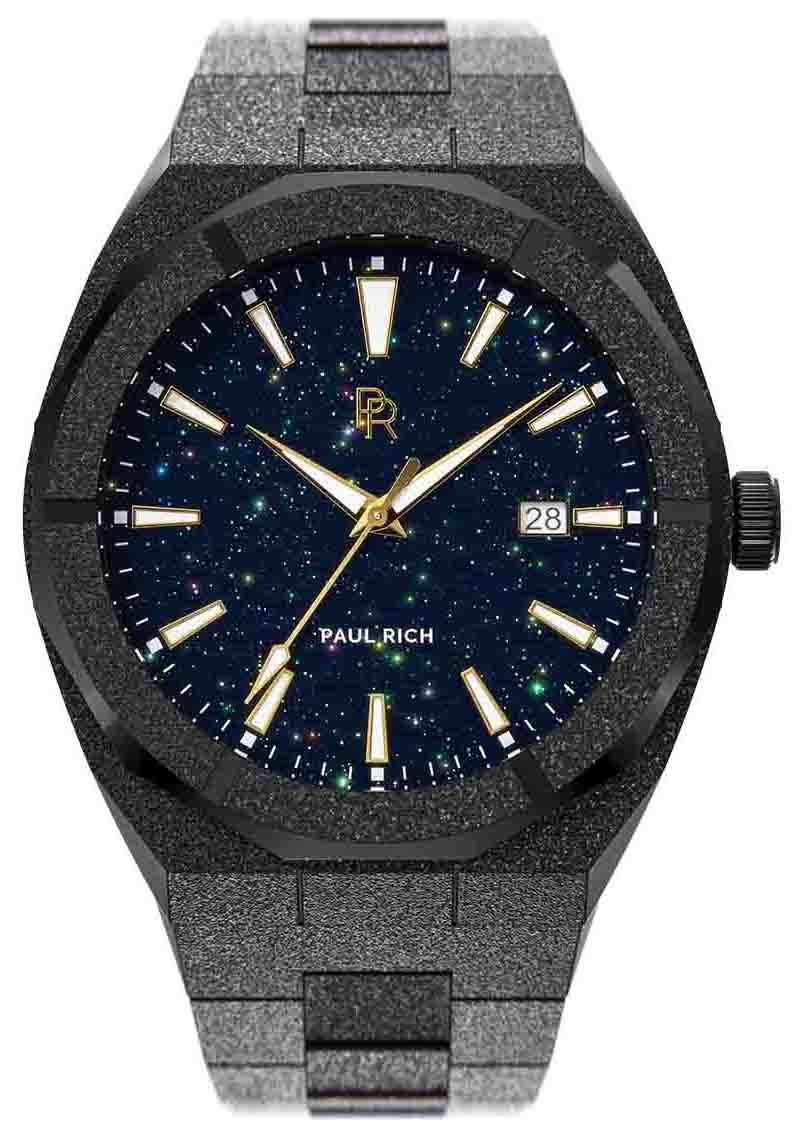 5. Paul Rich Frosted Star Dust Black FSD01-A Automatic
This overview cannot be complete without a Paul Rich. And how striking do you want a watch ... The FSD01-A is certainly not everyday, rather alien. It seems as if Paul Rich was inspired by Star Wars for these watches. The beautiful twinkle on the case and watch strap is Frosted Star Dust, an effect applied with Florentine Finish techniques. The blue aventurine dial is also unusual and gives a very shiny effect and is therefore part of the unique design of Paul Rich watches.
Case diameter of 42 mm
The case of this men's watch measures 45 mm, which is slightly larger than average. There are also models with a case diameter of 42 mm. This Paul Rich wristwatch has an automatic Seiko movement and sapphire glass is also included. The FSD01-A is slightly more waterproof than the Versace described above, with the Paul Rich you can at least take a shower.
This FSD01-A shimmers and shines quite a bit, you just have to like that. Tastes differ and this Paul Rich is just very striking and that is at the same time his best but for some perhaps his worst feature. The choice is yours!



Which is more convenient: an automatic watch or an Eco-Drive?
Eco-Drive is an invention of Citizen. It is therefore the Citizen watches that are equipped with such a movement. Of course you have to appeal to that brand, but the big advantage is: they are incredibly reliable and of very good quality. In our own watch range we have a large number of excellent automatic men's watches with a movement that is wound by wrist movement and models with an Eco-Drive movement, which means that this movement is charged by light energy. There is something to be said for both watches. The great thing about an automatic watch is that it really still has a mechanical movement. Some models are equipped with a transparent dial or a glass case lid, which is nice to see.
The benefits of Eco-Drive
The advantage of a watch with Eco-Drive over most automatic watches is that an Eco-Drive displays the time more accurately than most automatic watches. An automatic is simply a mechanical timepiece that often has a small deviation in the time display. That can amount to -/+ a few tens of seconds per day.


Another advantage of watches equipped with Eco-Drive movements is that, once fully charged, these clocks can be left in the dark for a longer period of time and still continue to display the correct time . Put the watch on your bedside table for days, put it on again, and it just keeps time. That is an advantage compared to an automatic timepiece, which must be wound regularly by wrist movement. If you don't do this, the watch will stop. Some machines, for example Seiko Kinetics, are equipped with a rechargeable battery so that your movement is converted into energy. This way the watch will continue to run even if you put it away.
So there are nice alternatives to quartz watches. In our shop you will find a large number of automatic timepieces and of course handy Eco-Drive models.